52 AMAZING DESTINATIONS FOR YOU IN ANDAMAN AND NICOBAR ISLANDS
1. Havelock Island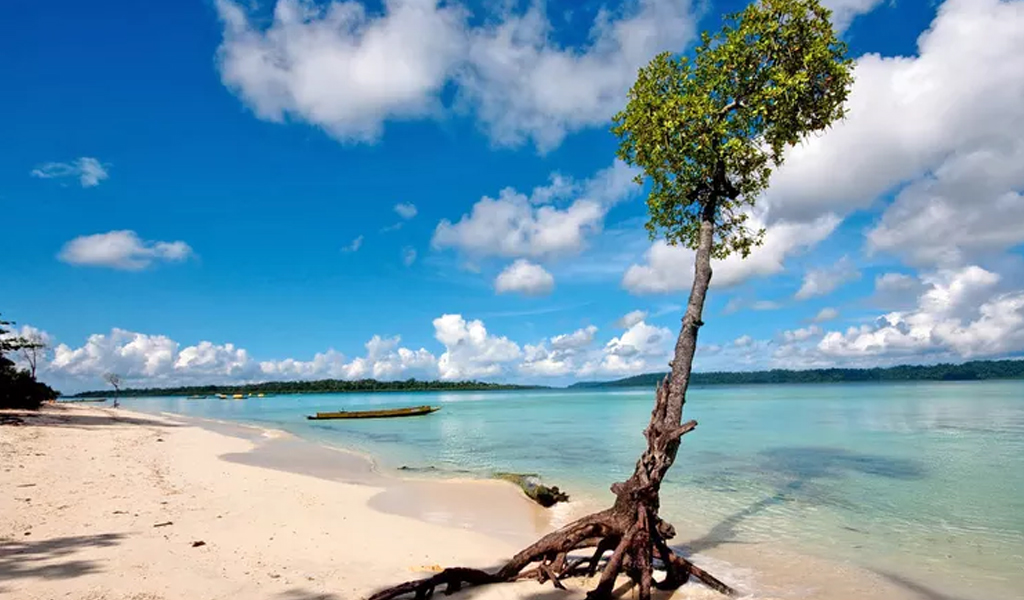 Havelock Island is one of the primary destinations of Andaman and Nicobar Islands. It is famed for its pristine beauty that goes unmatched when it comes to untouched and unexplored natural beauty and virgin forests of earth. It is a striking contrast of verdant greenery, sandy whiteness and blue vast ocean body. Due to its more than fair share of popularity among tourists and travelers, Havelock has developed luxurious tourist resorts and hotels to pamper the guests living in the lap of intense natural beauty. Havelock is the largest of islands and falls under must-visit destinations. A tour to Andamans would definitely be incomplete without a visit to the Elephant Beach and Radhanagar Beach of Havelock Island. The sublime beauty of the Radhanagar Beach combines with its perfect setting spread against the primitive jungles. The background is filled with a thousand sounds of jungle animals and birds and the secluded beach has "Beware of Crocodiles" marked at places. These factors make Radhanagar Beach one of the most coveted destinations of not only Andamans, also of world.
Snorkelling and scuba diving at Havelock under the aegis of expert trainers can turn into a lifetime experience. Watch the myriad sea creatures, some still and some moving, some peeping and some hiding, some iridescent and some camouflaged, some in groups of thousands and some single and solitary guarding protected corners of shelter. Each lap ahead as you swim through with the sea animals brings you face to face with a new wonder.
2. Neil island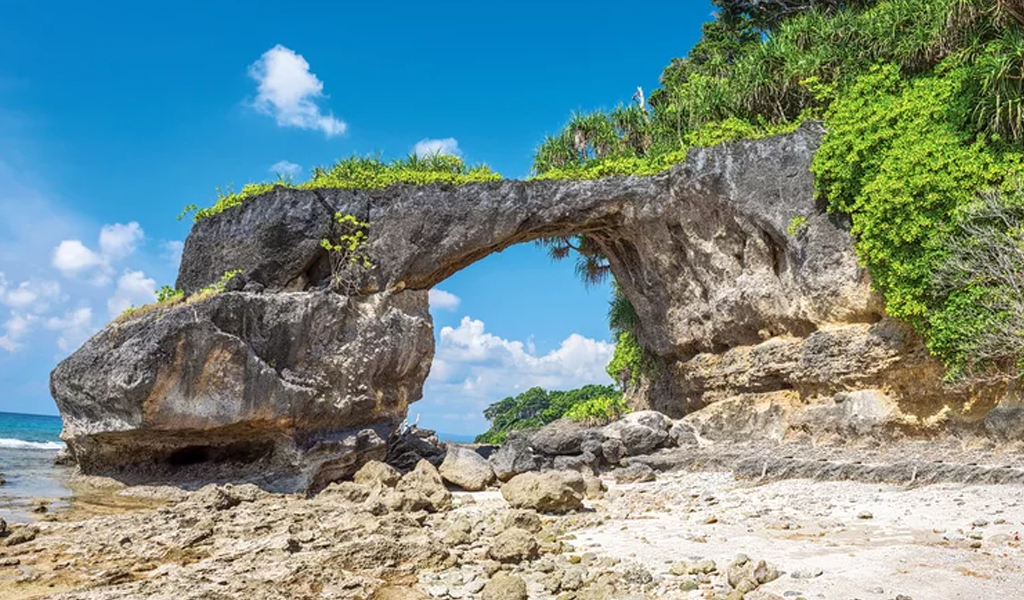 Neil Island is another very scenic natural paradise with captivating white sandy beaches and lush green forests. Neil Island can be reached easily from Port Blair or from Havelock via regular ferry services of various categories. Neil Island offers its own special appeal with some very popular beaches and a crystal clear waters that resonates with millions of teeming wild life and exquisite corals. Neil Island came to be inhabited in the late 1960s. Apart from snorkeling and scuba diving, Neil Island also offers glass bottom boat rides to its guests who are not adventurous enough to enter the waters but would still want to enter the visually ecstatic world of corals and fishes.
Relaxation on the beaches of Neil island watching the magnificent sunsets and sunrises across the ocean is a blissful delight. Neil Island is located at Ritchie's Archipelago and is an important member of the Andaman and Nicobar archipelago.
3. Ross Island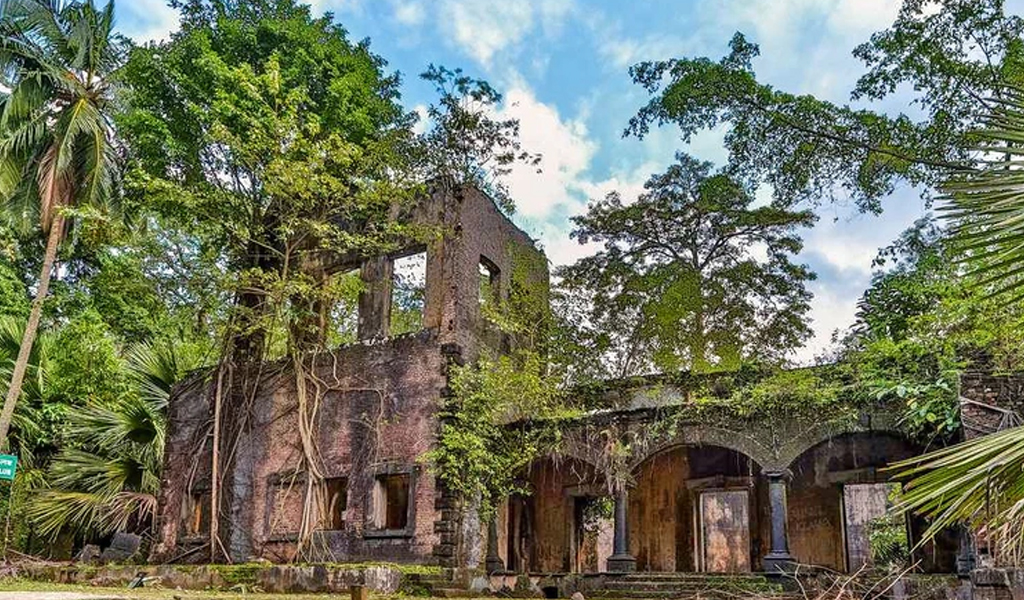 Ross Island caries the rich heritage of the British legacy since the time when India was under the British Rule. It was named after Sir Daniel Ross who was British Marine Surveyor. As you go through the historical and architectural ruins, you easily get transported to the world of the pre-independence Indian era. Ross Island is definitely a must visit if you are in Andaman and Nicobar islands. The sojourn of the Ross island becomes extremely interesting as you walk through British era Church, Hospital, Bakery, Press, Swimming Pool, Troop Barracks, Ballroom, Chief Commissioner's House and Government House. Rest in the shade of palm-lined beaches and watch the pipeline of waves crashing on the shores and look around for deer, peacock and ducks all around you. Ross Island is just 2 kilometres from port Blair and can be reached easily by boat in fifteen minutes. It is a point that is covered during your stay in Port Blair.
4. North Bay Island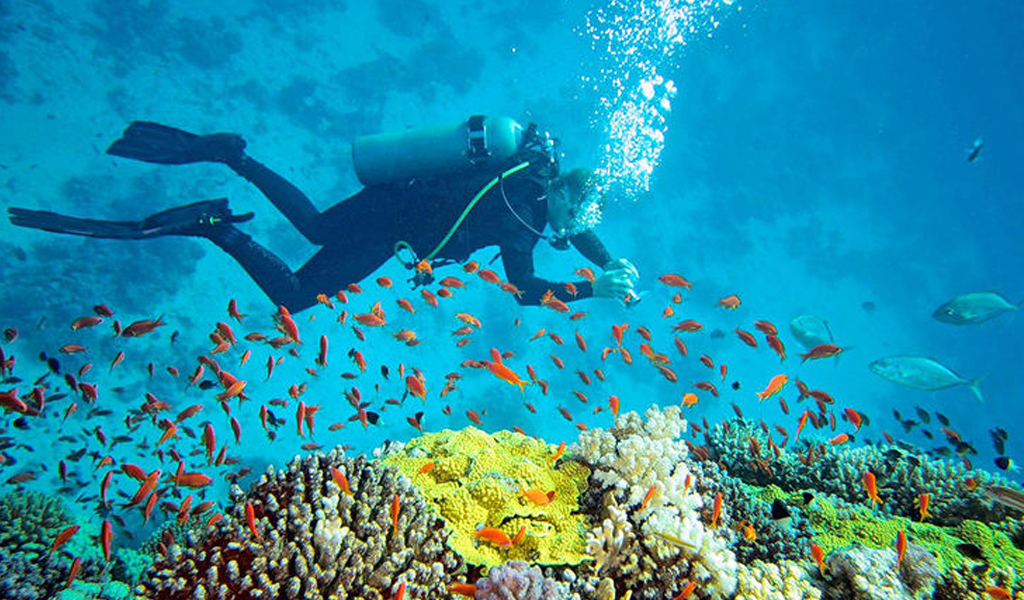 The North Bay Island gives an intensive feel of summer and sand. The corals at North Bay are exquisite and are spread through a long coast line in an extensive stretch. Dive a bit to catch some glimpses of lobsters, clown fish families, stone fish staring at you from behind the corals. The experience is a rightful mix of thrill and fun for all divers, especially the first timers.
Bask in the sun or explore the island both are equally captivating options. Apart from snorkelling, scuba diving, sea walking, glass boat ride and various water sports that are offered in most other tourists friendly islands too, here in North Bay Island you find the option of being in a semi submarine that takes you down to the ocean bed even without touching water and gives you the virtual feel of being under the water while you get amazed by the variety of marine creatures that this part of Bay of Bengal harbours. The variety is endless and enough to make you stare open eyed, not willing to miss a single chance of seeing something pretty and wild and inside the ocean belly.
The natural beauty of North Bay Island is beyond par. The light house peeping from above the verdant greenery has found a place in the 20 rupee note of Indian currency not for nothing. The alluring charm of this destination is indeed special. It can be easily reached by boat from the Phoenix Jetty at Port Blair. It takes hardly 15-20 minutes to reach the North Bay Island.
5. Baratang Island
This exotic island is famous for its exquisite secluded beaches, mangrove creeks, mud volcanoes and limestone caves — each of which is unique and worth a visit. The experience of the mud volcanoes and limestone cave is so enigmatic that it is worth a peep for the adventurous and brave at heart. Guides are provided and permission needs to be secured from the Andaman Forest Department for limestone cave exploration.
Nilambur Jetty of Baratang Island has boats to Nayadera Jetty through wide creeks for about one and half hours and after that the caves are one and half kilometre walk away through tropical forests. To reach Baratang Island's hidden natural jewels, one has to pass through the tribal inhabitations of Andamans. And the probability and all the notorious tales of the tribes attacking the civilized intruders or guests makes the visit to Baratang even more adventurous and thrilling. Baratang, in spite of all its notoriety, continues to attract a lot of travellers and tourists. People visiting this part of the archipelago get a chance to experience life in its primitive form and also gets the rare chance to spend some exclusive time in harmony with nature and its wonders — the enigmatic limestone cave and mud volcanoes. Baratang is situated around 150 kms north of Port Blair and can be reached by waterway through ferry services.
6. Viper Island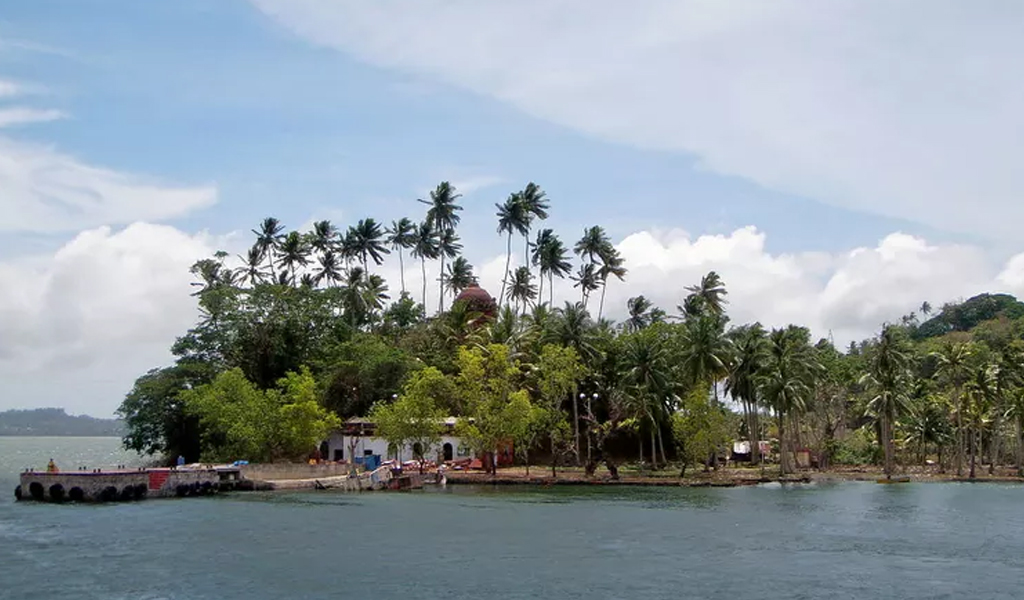 Viper Island is scarred with the notoriety of being the witness to the inhuman punishment and torture meted out to the Indian freedom fighters in the British pre-independence era. The island is said to derive its name from the ship named H.M.S. Viper in which a Britisher Archibald Blair had landed at Andaman and Nicobar Islands way back in 1789. The ship is said to have drowned near the island. Viper Island is as tainted with the blood and sacrifice of the brave national heroes as is the Cellular Jail. It was the jail where the prisoners were captive before Cellular Jail of Port Blair was built. It contains the ruins of gallows on top of a low hill. The worst form of torture was given to the political prisoners in which they were chained together through iron couplings that earned the name Viper Chain Gang Jail. The prisoners were also subjected to hard labour. Apart from the historical taint, Viper Island is also blessed with immense natural grandeur. The old jail building tour is interesting enough. It can be reached by a short ferry ride from the Aberdeen Jetty of Port Blair. The island though not very well maintained now and sort of destroyed during the latest Tsunami that had hit the Andamans is yet worth visiting on account of its deep historical significance.
7. Ross and Smith Island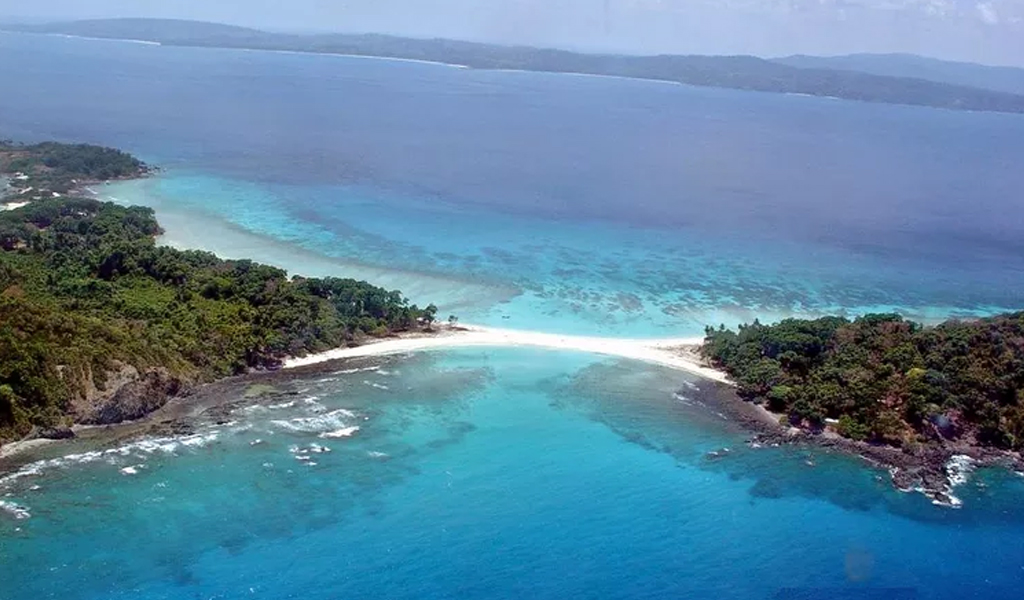 Ross and Smith are the twin islands of Andamans. Both the islands are connected by a sand bar that makes it extremely picturesque. Ross and Smith Islands attract a lot of tourists from all across the world. The sand bar gets submerged during high tide and then resurfaces during low tide. One can simply walk over from one island to the other via the sand bar. Enjoy photography of secluded beaches and glorious sunsets for which the pair of islands is famous. The island is also known to be the home of Olive Ridley Turtles and you can enjoy the view of turtle nesting and hatching of baby turtles and their march to sea if you are lucky enough.
8. Cinque Island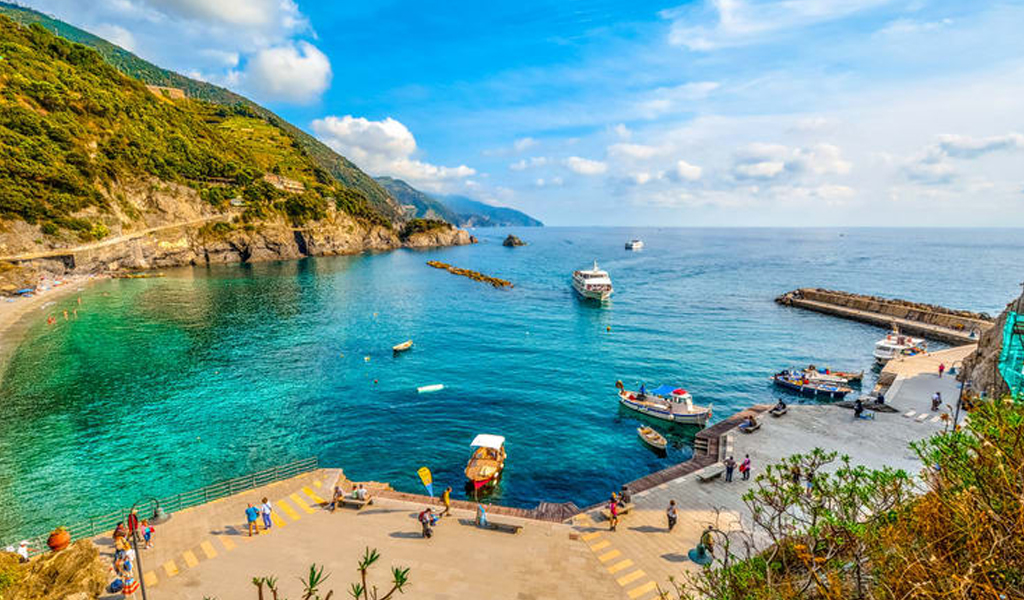 Cinque Island is not that highlighted maybe because there are similar other islands which are marketed aggressively and Cinque Island gets shadowed. It is a natural paradise and compares to the beauty of the more hyped islands. Blessed with white sandy shorelines, captivating coral reefs and the extensive azure oceans this island will catch fancy of all who treads.
This uninhabited island calls for a unique experience. The rocky isles and sand bar joining the North and South Cinque islands are a treat to the senses. The virgin beaches attract the tourists from all over the globe who run away from civilization and madding crowd. This island offers snorkelling and diving in peace and solitude. Game fishing of giant GTs, black marlins and tiger Gobras can be super exciting. Chartered boats reach Cinque Island from Port Blair. It is around 39 kilometres away from Port Blair.
9. Rutland Island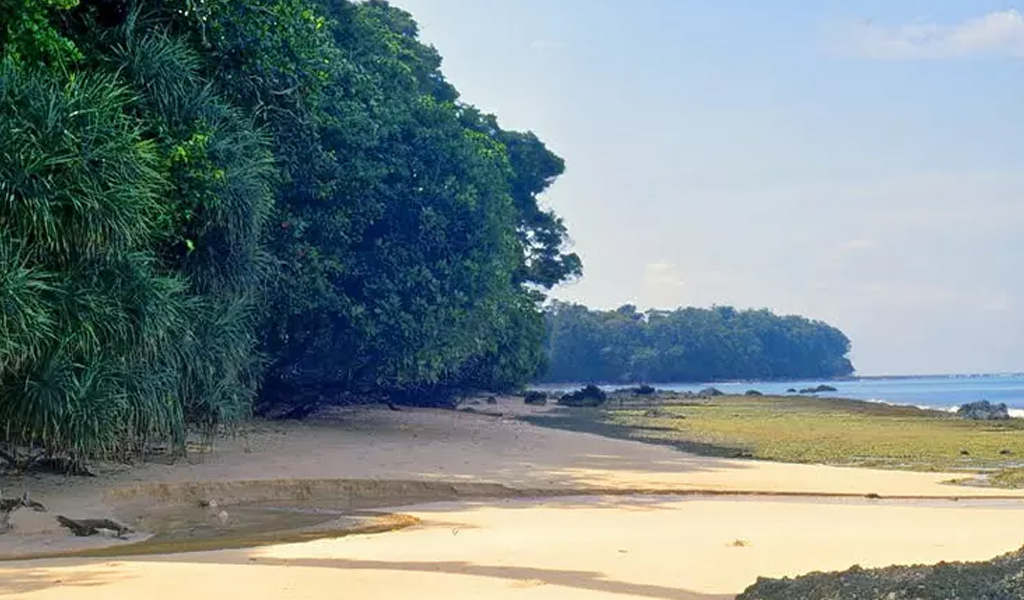 This magnificent island is situated very close to Port Blair. It is just 20 kms away from port Blair and can be conveniently reached by boat. It is popular for being the home to the native Jangil tribe of Andamans. The tribal population is concentrated in the island interiors.
Rutland Island has prominent mountain peaks by the name of Mount Ford, which is 433 meters high and Mount Mayo, which is 227 meters high. The island has very few inhabitants who majorly speak Hindi, Bengali and Tamil languages. As with all major islands, the primary attraction of Rutland Island are variegated coral reefs blessed with a rich variety of marine life. These coral reefs attracts divers, snorkelers and scuba divers. The island is filled with hills, dense jungles and rich variety of shrubs and jungles. Open water diving is popular for the variety of underwater creatures and colourful corals. The fun and relaxing tourist attraction spots of Rutland Island are Jahaji Beach, Bada Balu, Photo Nallah and Dani Nallah.
10. Mount Harriet National Park
The Mount Harriet National park was established in 1969. Mount Harriet Peak is located in the park is the third highest mountain peak in the Andaman archipelago. It is a reserve forest with mountain ranges and beautiful coastlines. The infamous Kalapathar, which is bloody and still considered a curse, from where the Indian prisoners under the British rule were pushed to their horrific death on the ravines is located around 2 kilometres away from the park.
Mount Harriet National Park has very beautiful beaches. Thus when one treks across the park, one can find beautiful coastlines, a wide variety of endemic flora and fauna and a host of colourful butterflies. Mount Harriet also harbours a tribal community in its depths who actually belong to the negrito race and are basically hunters and food gatherers, living a primitive way of life.
The evergreen primitive forests of mixed varieties of trees shelter a wide variety of birds too, such as wood pigeon, cuckoo dove, Andaman drongo, white-headed starling, Andaman woodpecker and lot many more.
11. Chidiya Tapu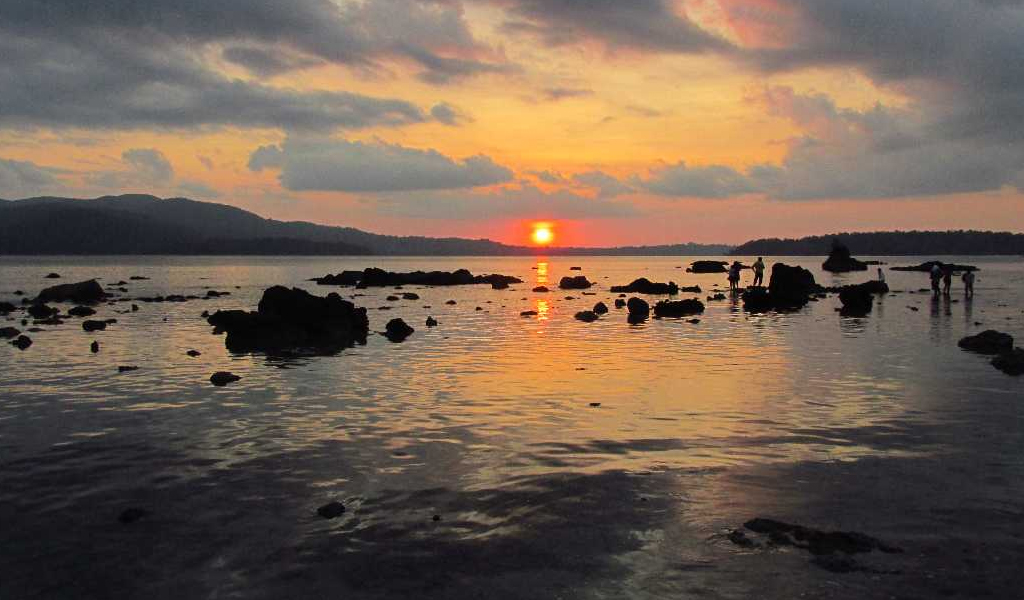 "Chidiya" in Hindi means bird. And as is implied by the name, Chidiya Tapu is the ideal place for bird watchers for viewing rare migratory birds and also the common indigenous birds, which are the attractive feathered residents of the island. Chidiya Tapu harbours a very exquisitely beautiful beach and attracts tourists in large numbers. The spot offers captivating views of sunrises and sunsets. The mix of dense deep evergreen forests on one side and the beauty of stunted hills on the other side flanked by mesmeric beaches make this spot idyllic.
One can view at least 46 varieties of endangered species of birds and animals in the vicinity. The mix of seasonal orchids and other varieties of plants along with the Sylvan Sands and the Munda Pahar Beaches provide an exquisite panoramic view. There are also provisions for staying in the forest guesthouse. The forests greet the guests with wonderful mellowed cacophony of a multitude of bird species. Boating, snorkelling and swimming are the adventure activities usually indulged in by the thrill loving tourists who visit these parts. Nature lovers and solitude seekers love to explore Chidiya Tapu, which is situated about 25 kilometres from Port Blair. Trek to Mundu Pahad while in Chidiya Tapu is attempted by the trekking enthusiasts.
12. Rangat
Rangat is quite a large island in the Middle Andamans. It is blessed with nature's bounty in the form of with pristine beaches, lush green vegetation, cascading waterfalls and interesting flora and fauna. The population is scanty and composed of simple and down-to-earth people from Tamil Nadu and Kerala. The main occupations of the populace are fishing and cultivation. Rangat is an ideal location for nature lovers and tourists obsessed with exploring lesser-trodden places on earth. The gentle sea breezes and the warm sunshine on the sandy beaches and the ever extending ocean front offer a sense of peace and tranquillity that attract a lot of tourists from all across the globe. Rangat also offers deep green forests and clear blue skies and perfect locations for chilling on the beach and sunbathing or relaxing. Photography, trekking, enjoying the Panchvati Waterfalls are some other attractions
Rangat harbours the famous Cuthbert beach that provides unlimited options to enjoy sea and sand. It becomes a nature lover's haven when in the months of December and January Rangat beaches turn into nesting grounds for turtles. The amazing scene of tiny freshly hatched turtles paddling towards beach is a sight that is never to be forgotten. Another destination of tourists interest near Rangat is Yerrata Creek and Yerrata Mangrove Park. Here you watch in wonder the diverse varieties of mangrove. There is 13 metre tall Mangrove watch tower that offers a panoramic bird eye view of the mangroves and the adjacent forests.
13. Mayabunder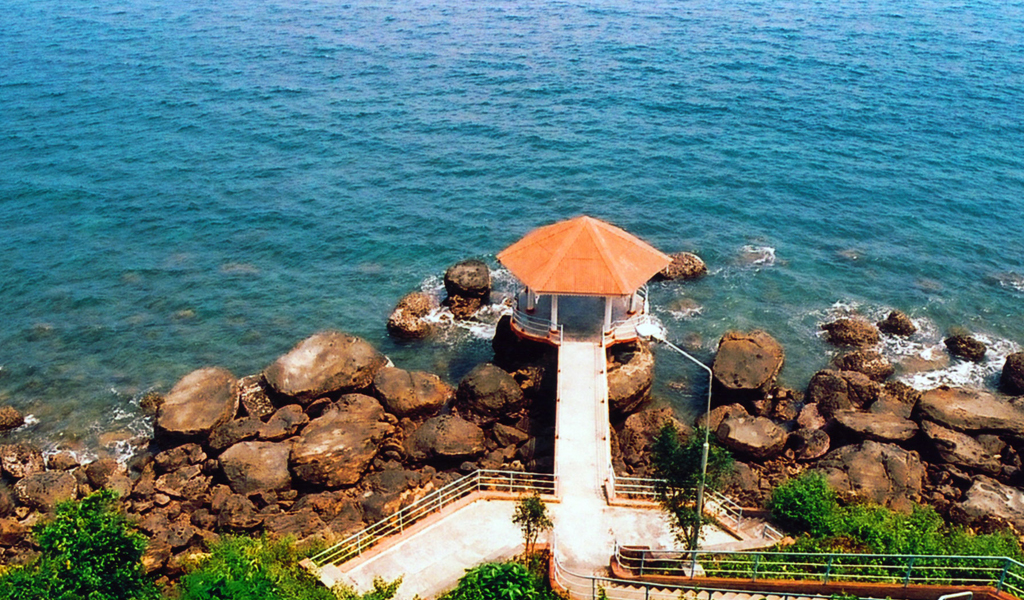 Mayabudner is located in the northern side of the Middle Andamans. Even though it is a bit far from Port Blair (approximately 242 km away) it is definitely worth a visit. Mayabunder can also be reached in three hours from Rangat. Mayabunder makes for a perfect location for beach holiday, far from the maddening society and civilization, in the lap of nature. It offers fascinating mangrove creeks and entrancing beaches and isles. Mayabunder is also the home of former Burmese Karen Tribes. These tribes were known to serve the British as logging labourers in the pre-independence era.
The chief attractions of Mayabunder are the enigmatic Karmatang Beach, interesting Interview Island, serene Rampur Beach and enchanting Avis Island. The Karmatang Beach is famous for being the nesting ground for turtles. Avis island on the other hand is small and uninhabited and known for its beauty exuding from the sea, beach, sand and coconut plantations. The Rampur beach has unspoiled beauty and primeval mangrove forests. It also interestingly flaunts the remains of a German Jetty. The Interview Island is also steeped in natural beauty and has various sources of water. For example, the Western coast of Interview Island has a cave that gives out fresh water. Mayabunder offers various water sports to the adventurous and thrill seeking tourists.
14. Diglipur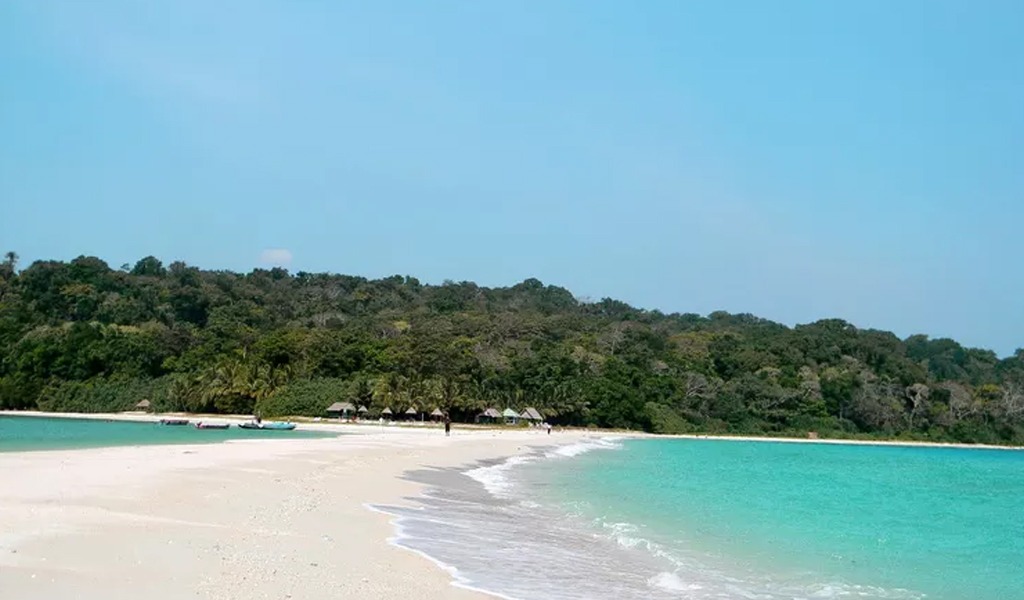 Diglipur is a haven for tourists and travellers who are looking to spend a vacation that is intensely close to nature and provides absolute peace and solitude. Diglipur presents an agricultural face with orange plantations and stretches of very green rice fields. Situated in North Andaman, Diglipur, construes a dream vacation with infinite sea beauty, unbridled view of wide expansive seas, foam lapped shoreline and pleasant sea breeze.
Diglipur is located 325 kilometres away by road from Port Blair and takes nearly 12 hours to reach. The highest point of Diglipur and also of Andaman archipelago is the Saddle Peak, which is surrounded by Saddle National Park. Andaman has only one river, Kalpong, that flows here. Diglipur offers the unique glimpses of simple rustic life led by the local people. The simple ways and humble and friendly nature are extremely pleasant. The solo hydro-electric project of Andamans is located on the Kalpong River of Diglipur. The several enticing view points and tourists attractions that call in a lot of tourists from across the world each year are Lamiya Bay Beach, Mud Volcano of Shyam Nagar, Kalipur Beach that is also famous for being the turtle nesting ground, Ramanagar Beach, Pathi Level Beach, the Alfred Caves or limestone caves and, of course, Saddle Peak, the highest point of the entire group of islands of Andaman and Nicobar.
15. Aamkunj Beach
Aamkunj Beach has a magnificent coastline and is loaded with surreal natural beauty, exudes peace and is a paradise for bird watchers. It is located close to Rangat, just about 8 kilometres from Rangat while one travels towards Mayabunder. The Nimbutala Helipad is just a kilometre away from Aamkunj Beach. This beach offers very cool swimming location and is also appropriate for sun bathing and relaxation. Amkunj Beach was provided with basic tourist facilities in the form of eco-friendly huts, wooden sofa and tepoys and natural groves. These groves were named after trees that are found locally such as casurina, jamun and pandanus. The beach is a favourite local haunt too of the villagers apart from the tourists travelling from outside.
16. Dhaninallah Mangrove Nature Walkway/Walk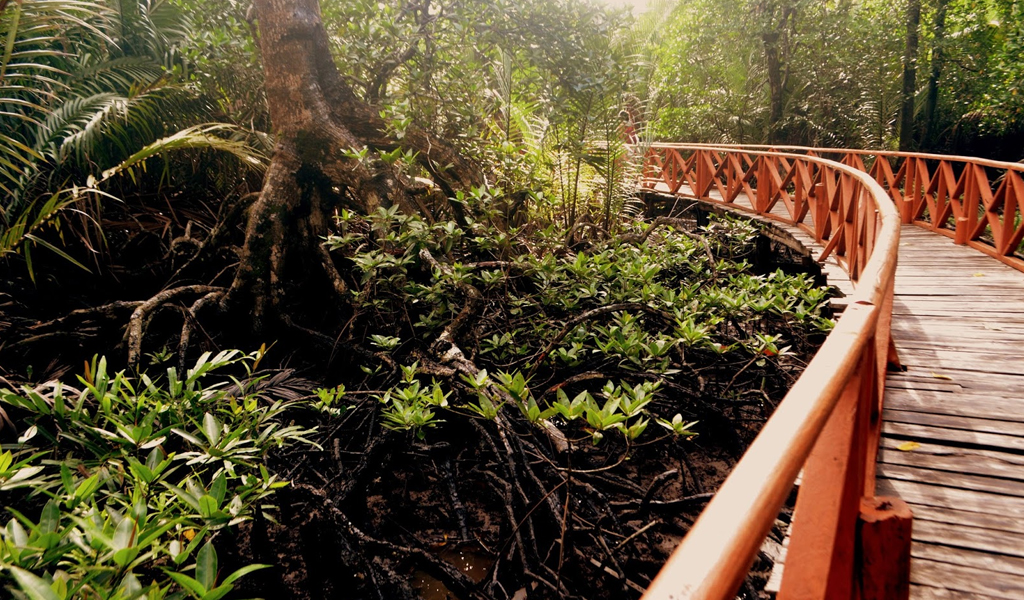 Dhaninallah Mangrove Nature Walkway/Walk is an exquisite beautiful walkway among lush mangrove with the air filled with the scent of sea. This place can be reached by taking a short detour via the Andaman Trunk road after crossing the famous tourist destinations of Rangat and Amkunj Beach. It is actually located around 20 kilometres from Rangat. It is a superbly long walkway and one of its kind in the whole of India and hence very unique. The name Dhaninallah came into existence after the name of a variety of mangrove locally called Dhanipatti. This Walkway straightway leads to a captivating and long beach known as Dhaninallah Beach, which is famous for being a turtle nesting ground. The walkway is exceptionally beautiful at par with the beauty of the beach. The walkway has been constructed among the mangrove which is around 715 metres long leading to the beach front crossing creeks and mangroves. One can have a close look at the mangroves on both sides. The walk gets thrilling and is super exciting. Both sides of the walkway is fringed by lush green thick mangroves of every height and also contains small resting huts. Enjoy pristine nature and an air filled with bird chirpings emanating from the mangrove surrounding forests. Once you reach the beach you shall be doubly bowled over by the emerald blue waters of a tropical sea. The beach is very clean with silvery white sands.
17. Panchavati Waterfalls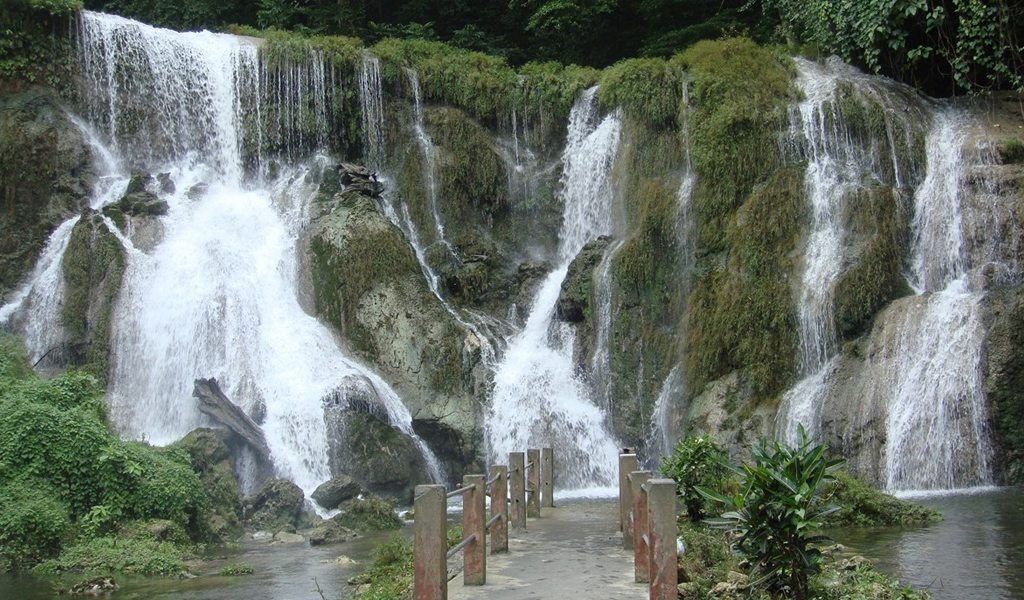 Panchavati Waterfalls is located on the Panchavati Hills and commands a unique and beautiful location. Even though it is located 200 kilometers away from Port Blair, the capital of Andaman and Nicobar Islands. The waterfall tumbles down from quite a great height and is a natural wonder. The beauty of waterfalls and the lush green surroundings attract a lot of tourists from far and near. It is an ideal location for trekkers too and if you intend to trek you need to wear comfortable shoes. Also, the waters of the waterfall are inviting and in case you are tempted to take a dip, carry an extra change of clothes. There is no stipulated time for entry or fee or restriction for entry. It can be visited anytime from sunrise to sunset. The location is ideal for nature photography, fishing and tasting the local culinary delicacies.
18. Cuthbert Beach/Cuthbert Bay Wildlife Sanctuary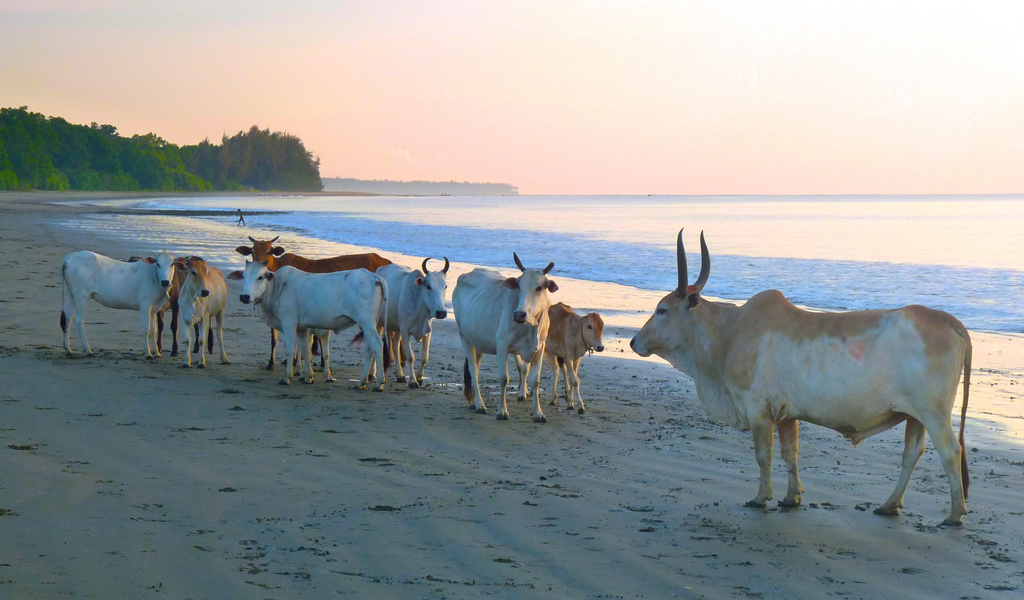 Cuthbert Beach is a pleasant sandy beach commanding an unhindered view of the beautiful azure blue seas. It is a 8 kilometre long picturesque beach fringing the Cuthbert Bay Wildlife Sanctuary. The walk on the beach is replete with the greenery of coastal zone vegetation. The beach is provided with eco-friendly huts for resting purposes and also provides information to tourists arriving at the beach for exploring the natural beauty from far and near.
Cuthbert Bay Wildlife Sanctuary is located in the Middle Andaman Islands. It is an ideal location to enjoy the peace and solitude of a quiet and simple village life. Cutbert Bay is also tremendously noted world over for being a turtle-nesting ground. This beach and bay area is 20 kilometres from Rangat. Amkunj beach, which is 15 kilometres away from Rangat jetty towards Mayabunder. Mayabunder and Diglipur are all well connected to Cuthbert Bay Beach area. While entering the Cuthbert Bay Wildlife Sanctuary the travel through the mangrove creek can get immensely thrilling as one can spot Salt Water Crocodile. The water Monitor Lizards along with other reptiles such as the water and terrestrial snakes living in the surrounding forests and mangroves from other major attractions.
The sanctuary is marked as one of the most important turtle nesting beaches in Andaman and Nicobar Islands. The turtles arrive at the beach to lay eggs. After digging a pit and laying eggs, the turtles get back to the sea. The beach is regularly visited by turtles laying eggs in the months of November to March. The nesting and hatching takes place in the night. Tourists visit the sanctuary to catch a glimpse of the turtle nesting and egg laying phenomenon. Also, they can take part in observing and carrying out the process of transfer of eggs to the hatchery and then releasing the hatchlings into the sea. This is a golden chance to watch how natural conservation works.
The most common breed of turtles visiting the beach are the Olive Ridley turtles. Other varieties such as the Green sea turtles, Hawksbill and Leatherback turtles have also been reported to visit at times.
19. Long island
Long Island is not that big, about 18 square kilometres. It can be designated as a modern village and enjoys certain facilities that are not really available in most villages of Bay Islands. Among the modern facilities, Long island has its own power house and bank and wireless facilities. It also boasts of a well-equipped Boat Building Yard. Long Island has bounty of natural beauty that includes rice coral reefs, exclusive beaches, enigmatic caves, lush greenery, mangroves and lines of azure blue skies melting with the similar blue seas. Adventure tourism gets a boost on account of the exquisite beauty of the island, virgin dense deep tropical forests and a rich marine ecosystem. The tidal swamp forests merge daintily with the evergreen green forests to give the island a wholesome green-surrounded-by-blue effect.
The glistening silvery beaches of Lalaji Bay and Merk Bay of North Passage Island adjacent to Long Island lends the island unmatched beach beauty. Sunset rust views from Long Island attract nature lovers to take a cruise along the Yerrata Creek. Enjoy nature in Long Island in its full glory and find an unbroken serenity all around where you hear the breeze, the waves, the birds and nature's song.
Plan a trek through the main village area across plantations, fields and rainforests. There is a beautiful trail from the jetty to the Lalaji Bay area that is around 6 kilometers long. Snorkel and sunbathe in seclusion in complete privacy.
20. Guitar Island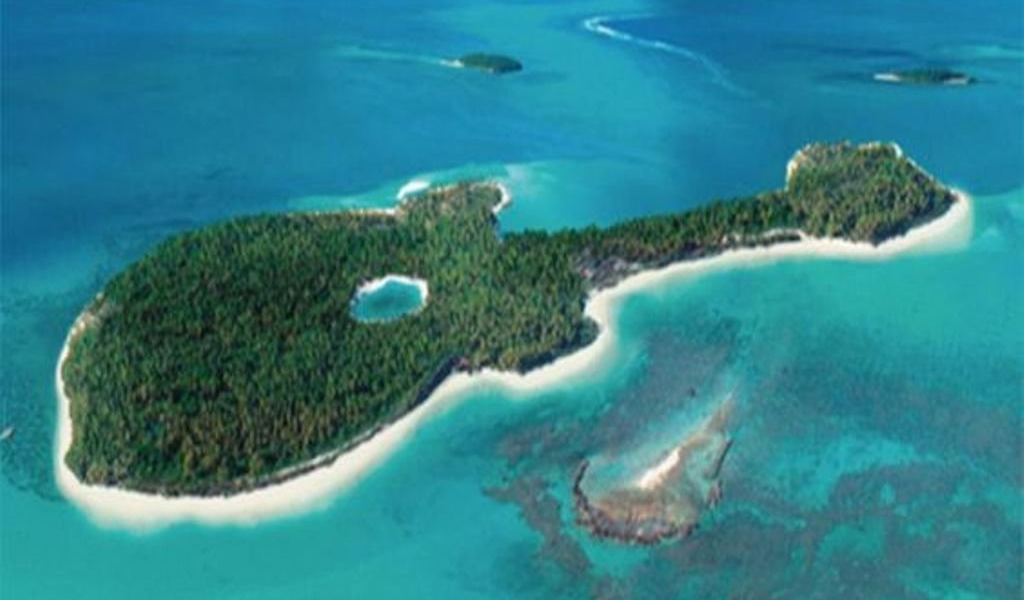 Guitar Island has stunning beauty. It is situated close to Long Island and can be easily reached by water. The name is derived from its shape which is like a guitar. It is uninhabited and hence is loaded with peace and tranquillity. Overnight staying in Guitar Island is not possible because there are no accommodation facilities here. Stay can be arranged at Long Island or Rangat both of which make provisions for day trip to Guitar Island. Guitar Shaped, this island is one of the most beautiful islands. Fibre boats or speed boats carry interested and adventurous tourists to this island from Long Island in around 15 minutes.
Long walks across the soothing and powdery beach of Guitar island is an invigorating experience. The waters along the coasts are crystal clear and the silence in the air puts your mind at rest and peace. The beach here can be enjoyed to heart's content without any interruption and away from noise of chattering human crowd. To best enjoy, go to the beach with your favourite book and music, lunch pack, drinks, towels and change of clothes and laze on the beach from early morning till sunset. Laze around the beach for hours. Interestingly, there is another island adjacent to Guitar Island which is also like a guitar in shape but smaller in size and hence called Small Guitar Island.
21. Merk Bay Beach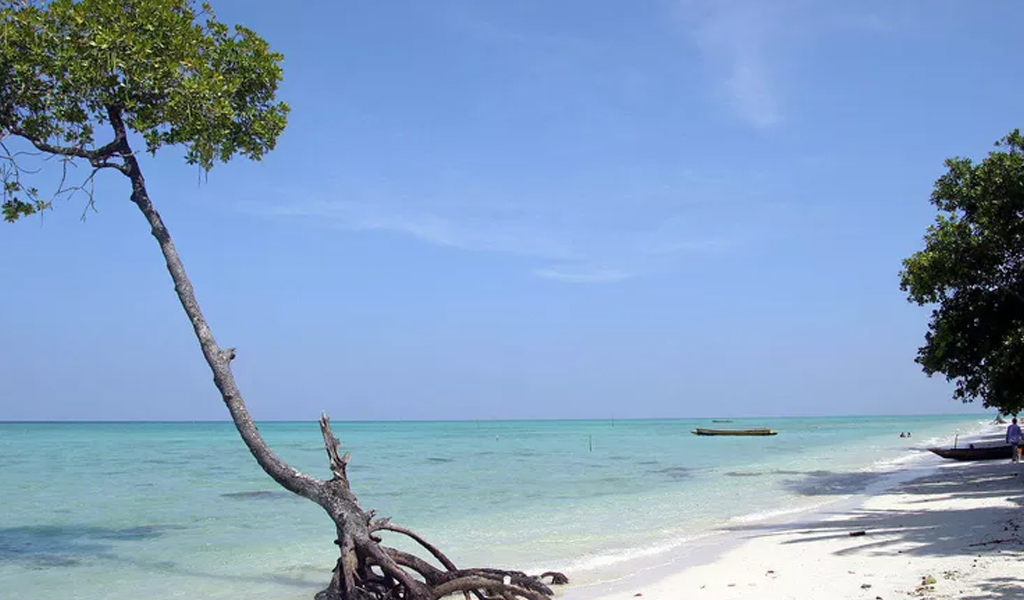 Merk Bay located on North Passage Island of Middle Andamans offers one of the most delightful and secluded beaches. This bay area is known for dolphin spotting too if one is lucky. It is located in between Strait Island on the right and Guitar Island on the left. It is also flanked by a set of three small islands on the opposite side called North, Middle and South Islands. Merk Bay Beach is undoubtedly one of the best and most peaceful beaches of Andamans. The beach is ideal for lazing with its fine and white sands that stand contrast to the blue waters of the ocean around and makes for a perfect beach location to compose a holiday. The beach is safe and perfect for bathing and snorkelling. This bay area is also known for being a superb site for spectacular bird watching. Want to watch dolphins in their natural setting and be a witness to their legendary playful nature! Merk Bay is the place you should be.
Boat can be hired from Long Island and Merk Bay can be reached in an hour. It however takes around 2 hours by boat from Yeratta Jetty. This island is uninhabited and all provisions of entertainment such as hammocks and books, drink and food need to be carried along. It is advisable to reach the island in the morning early hours and stay till sunset.
22. North Passage Island
North Passage Island is chicken-neck shaped and it is situated 30 kilometers northeast of the gorgeous Havelock Island. On one side is the famous Strait Island to the south of North Passage Island. And Strait Island is known to be the home for last breed of rapidly dwindling Great Andamanese tribe. Guitar Island and Long Island are located to its north. To the east of North Passage island there is a channel and across it lies John Lawrence island in Ritchie's Archipelago. The Middle Andamans lie closer to the west. North Passage Island has a beautiful secluded beach on its north-eastern side, Merk Bay. It is an island to be enjoyed in solitude. As it is uninhabited, only day trips are advisable. The calm and sheltered waters between North Passage and Middle Andaman towards the western side of North Passage Islands is good for sea cruise and catching some fresh salty sea breeze.
23. Button islands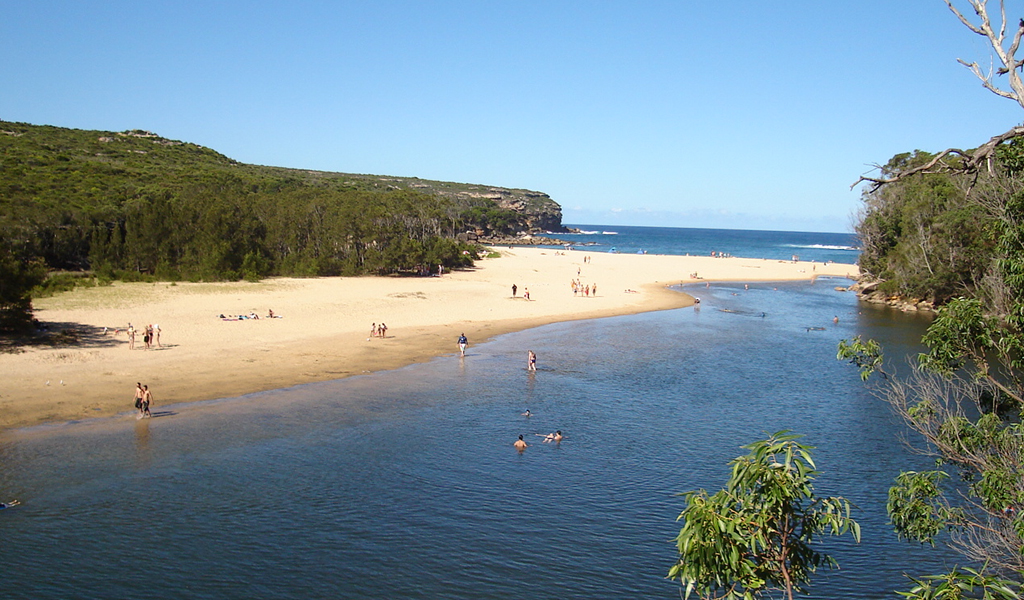 There are three Button islands — South Button island, North Button island and Middle Button Island. These groups of islands is found off the coast of South Andaman Islands and forms a part of Rani Jhansi Marine National Park. The pleasant moderate oceanic climate make weather absolutely pleasurable in these islands.
Even though all three islands are small to support large land animals, but the surrounding seas teeming with a myriad and exotic variety of marine creatures amply compensates for it. The common and interesting animal species to be founded here are dugongs, water lizards, sea turtles, dolphins and blue whales. There are snappers, sweetlips, lion fish, angel fish, butterfly fish, devil rays, manta rays, barracuda, octopuses, shrimps, sea eagles to be found in and around the island group.
Scuba diving and snorkeling are favorite adventure sports for tourists who choose to visit the Jhansi Marine National Park. The coral diversity around the island group is worth a dive. The waters are shallow with excellent visibility and so snorkeling and scuba diving around these parts is a real treat.
24. Lalaji Beach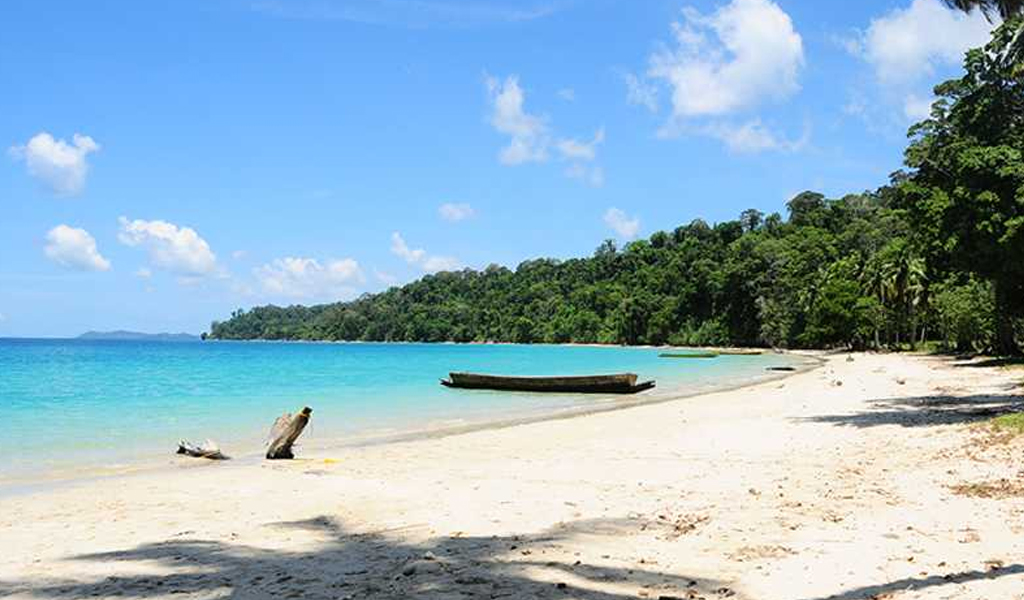 Lalaji Bay Beach is located in Long Island. It can be easily reached via water way from the Yerrata Jetty in Rangat to Long Island. The ride is around 1.5 hours and traverses through picturesque creeks. Lalaji Bay Beach in itself is a captivating sandy beach on the west coast of Long Island. One has to take a boat from Rangat Jetty to reach Lalaji Beach of long Island. The boat ride makes for a comfortable ride and a scenic sojourn. After reaching the Long Island at the Long Island jetty, a fibre boat takes you to the West coast and a few kilometres of trek takes you to the Lalaji Beach. The sandy, elongated, sprawling beach is surrounded by crystal clear waters. Take a bath, go for a swim, laze in the beach, relax and spend the day as you wish to refresh your mind and body.
25. Elephant Beach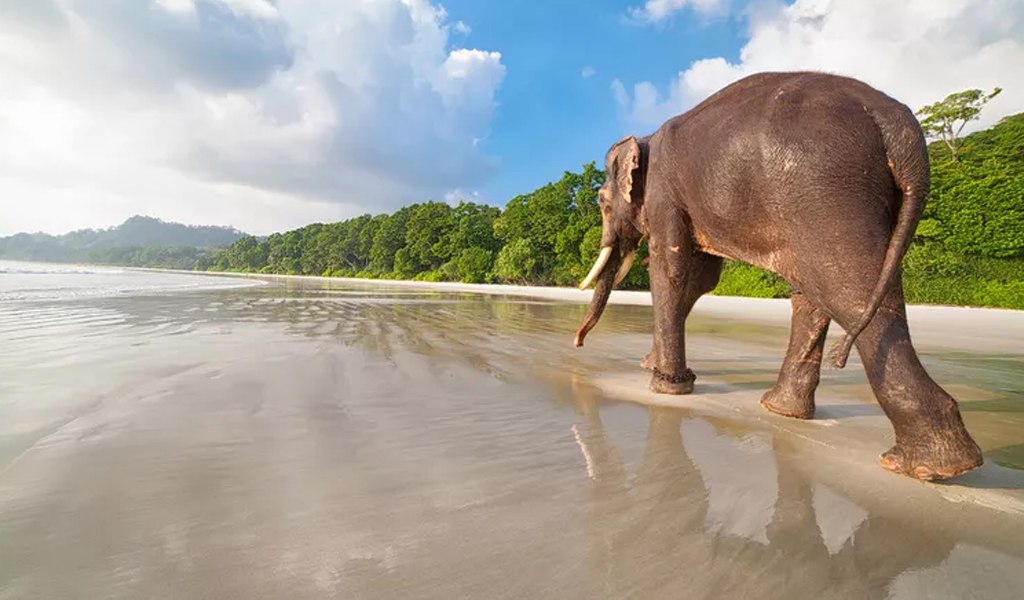 Elephant Beach is famous for being a happening destination in Andaman and Nicobar Islands for water sports and for leisure tours. Elephant Beach makes for a fantasy land with its exquisitely beautiful coral reefs that showcase a variegated and rich coral reef structure and amazing underwater marine life. The spellbinding underwater life makes the admirers come back for more. Tourists from far and near visit Elephant Beach to enjoy the best of Andamans. The beach is ideal for indulging in various kinds of water sports such as scuba diving, snorkelling, jet skiing, swimming, sea walking, bird-watching, trekking and kayaking. The underwater fun is too thrilling to resist and the almost transparent waters rich in corals and amply supplied by a great variety of sea life gives the experience of a lifetime. Elephant Beach is Havelock Island's primary tourist attraction. Elephant Beach can be reached by boat from the Havelock jetty in 20 minutes.
26. Kalapathar
If you want to catch the best sunset in your visit to Andaman and Nicobar Islands, you can do that at Kalapathar Beach. Kalapathar Beach is a beautiful beach and derives its name from the black rocks jutting out from among the white sands. Boat rides are a thrill to venture. The beach is lined with small shacks and lots of snacks and savories can be tasted. Walk down the beach a bit to avoid the crowd away from the shacks. One or two stray tree trunks fallen across the sands add to the beauty and provide excellent location for photography.
Kalapathar Beach of Havelock is one of the most popular beaches of Andamans. Dainty trinkets and handicrafts are also sold in the beach to be bought as mementoes. There is a small path that leads to the jungles around which was once the training camp for elephants. Fresh coconut and mango juices in the mango season can be enjoyed.
27. Jolly Buoy Island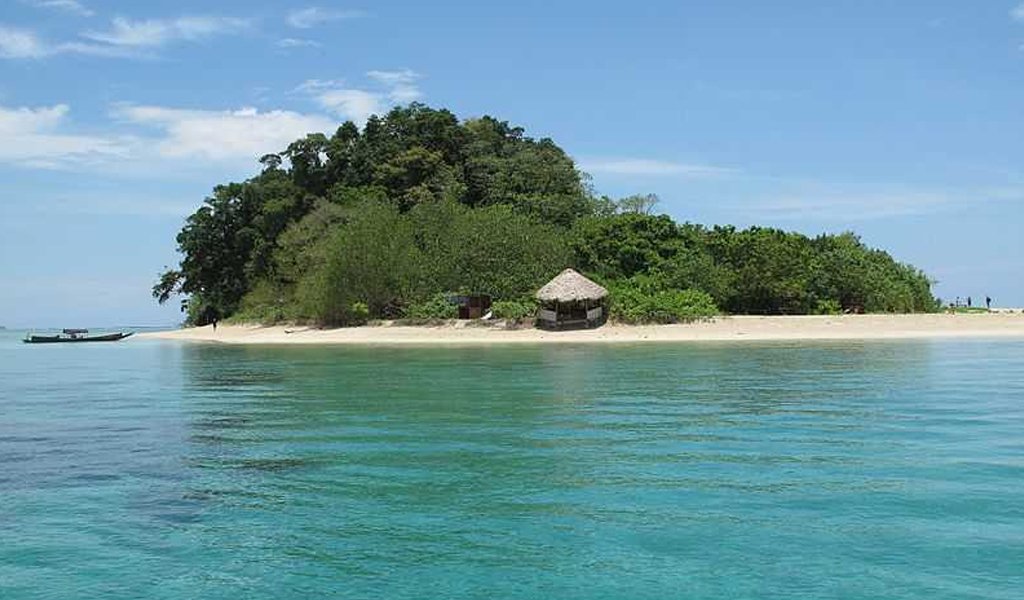 Jolly Buoy Island is another exquisite destination for tourists and travellers visiting Andamans. The beach is scattered with dry tree trunks that create amazing contrast with the white sands of the beach. The waters of the ocean across the beach is magnificently clean and clear with a lot of underwater corals. Snorkelling and scuba diving are the two most popular and thrilling activities that this beach offers to its guests. Jolly Buoy Island is just an hour's travel by water from the famous Wandoor Beach, which in turn is located 30 kilometres away from Port Blair. This islands also nestles some of the greenest of the green tropical forests and mangrove swamps along with feathery white sandy beaches and beautiful coral reefs. This island is very well connected to the other main lands by water and has boat facilities to and fro. It is located at a distance of 30 km from Port Blair further to the southwest. The glass bottom boats operating around the island offer a good chance to enjoy the corals underwater without having to get soaked in the sea. Jolly Buoy Island is protected to save the living corals and so is closed at certain times of the year. People planning to visit this island are advised to take prior information on the opening of the island to outside tourists. It is also advisable to carry your own packed lunch, food and water and also something to spread on the sands along with a change of clothes if you are planning to visit Jolly Buoy Island.
28. Corbyn's Cove Beach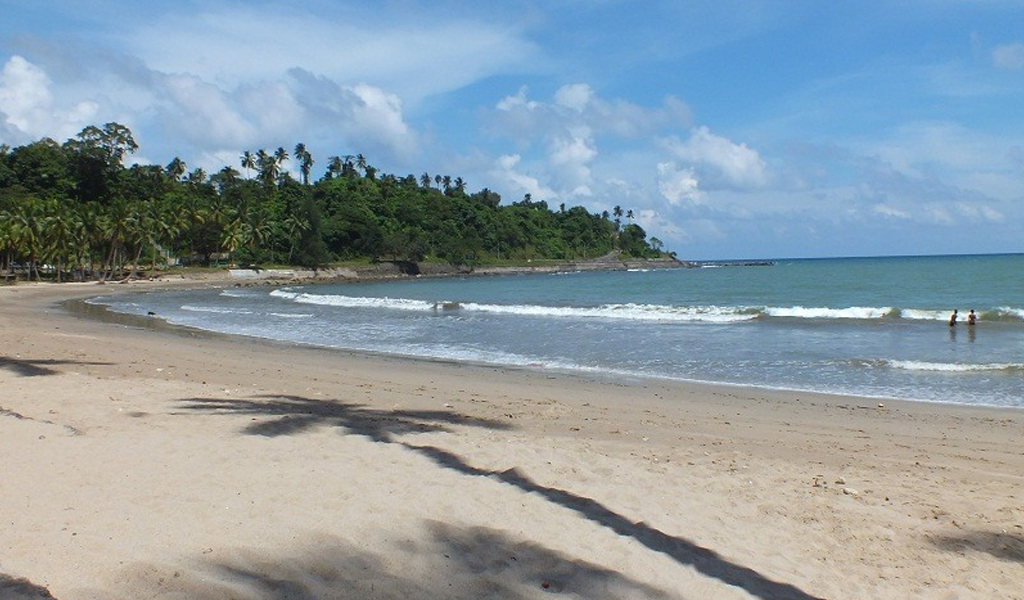 Corbyn's Cove Beach in spite of being so close to the City Centre is a secluded and unspoilt beauty. It is located just 8 kilometres from Port Blair city centre. It is a prominent sightseeing place in Andaman. The beach is blessed with a sandy gentle shore line, pleasant blue sea water and lush green coconut palms lining the coast. The tourists have ample opportunity to relax and enjoy the various water sports offered at the beach. The common adventure sports to be enjoyed at Corbyn's Cove Beach are scuba diving, surfing, speed boat rides and boating. This beach is also a perfect location for sunbathing, swimming or simply sitting at the beach front on benches aesthetically added to the beach gazing at the blue seas. This coconut palm fringed beach is lined with small stalls selling bright and colourful knickknacks and restaurants offering a wide variety of delicacies to munch at, along with juices, coffee and shakes. Take a short trip to the dangerously adventurous Snake Island from the Corbyn's Cove Beach and can see a lot of deadly snakes. The Snake Island is famous for colourfully mesmerizing corals, spellbinding variety of fishes and sea bed rock/coral formations. Enjoy speed boating and jet skiing while at Corbyn's Cove Beach. You can also spot the war bunkers that had been built by the Japanese Army during the vicious World War II.
29. Lamiya Bay Beach, Diglipur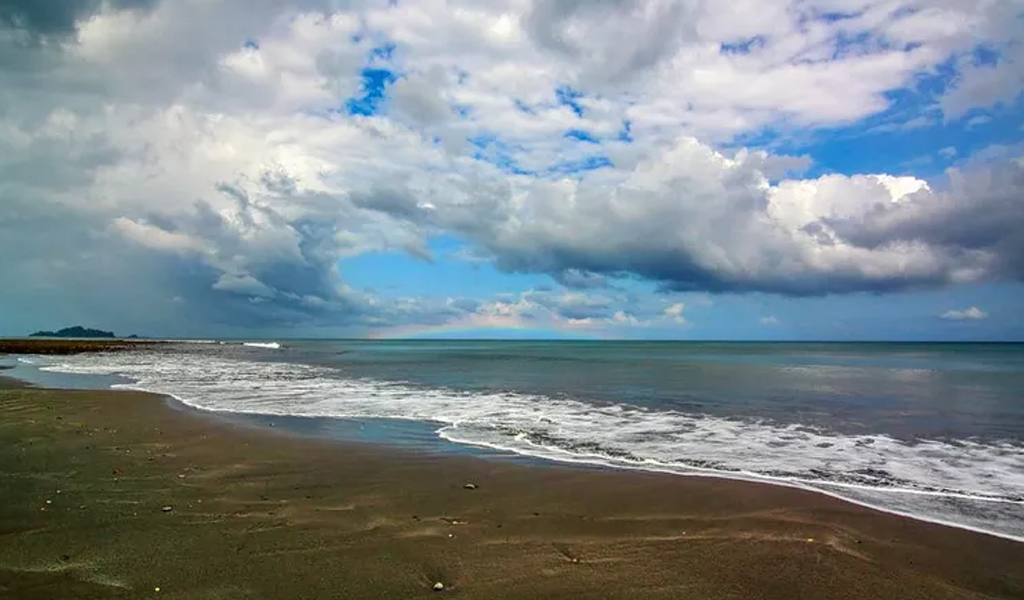 The Lamiya Bay Beach is located in Diglipur and lies a few kilometres ahead of another famous beach called Kalipur Beach. The Lamiya Bay Beach is at the foothills of Saddle Peak, which is the highest peak in Andaman and Nicobar Islands. The road that goes from Port Blair to Diglipur reaches Kalipur Beach and from there goes till the Lamiya Bay Beach. This beach provides intense solitude and peace and has pure sensational beauty of blueness, corals, marine life and brown sands dotted with numerous big and small pebbles scattered all across the beach. One can easily catch on some moments of absolute bliss listening to the incessant waves crashing on the shores and the open view of the vastness of the seas rolling and rocking gently. The greenery lies intact along the shores and makes a pretty picture with the blueness of the oceans around.
30. Kalipur Beach
Kalipur Beach of Diglipur is an ultimate tourist destination and is extremely famous for being the home to thousands of turtles nesting. During the months of December and January, Kalipur Beach transforms into a veritable turtle nesting place. The beaches are under protection by the Forest Department who supervises the nesting of turtles and the subsequent journey of the hatchlings into the safety of the oceans. Apart from being an interesting place for nature lovers and curious tourists to observe the exotic phenomenon of turtle nesting, this beach also provides ample peace and quietude.
31. Ramnagar Beach, Neil Island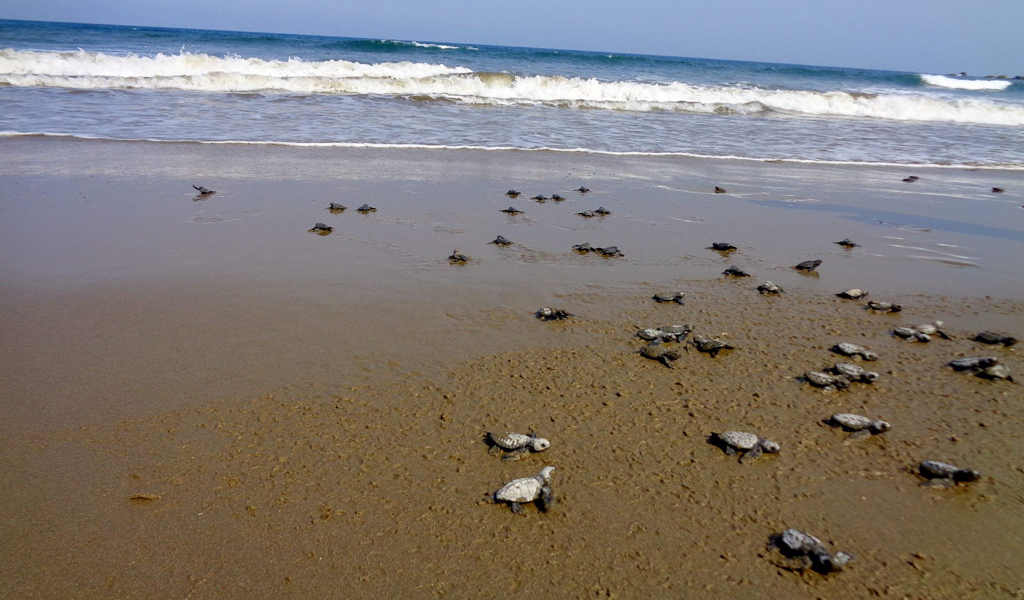 Ramnagar Beach or Beach No. 3 stretches beside the Ramnagar Village of Neil Island. This beach in spite of being very beautiful is not suitable for swimming though on account of the underwater sharp corals. Some comfortable and easy accesses to the sea is through the Blue Sea Restaurant and a road just across Deep Sea Resort. The sea is calm and pretty with yellowish sands. The beach is lined with a lot of trees that provide plenty of shade and one can chill or laze with a book or a drink. Beach No. 3 offers a nice snorkelling as the sea waters are extremely clean and clear with excellent visibility and lot of colourful sea life. One has to go further deep into the waters from the S-shaped coral reef to watch the best of corals. The waves at certain point might get big and tumultuous so the waters might be suitable only for experienced divers and swimmers. The sunset view is exquisite at this beach. And the crowd is very less compared to other popular beaches of Neil island.
32. Ramnagar Beach, Diglipur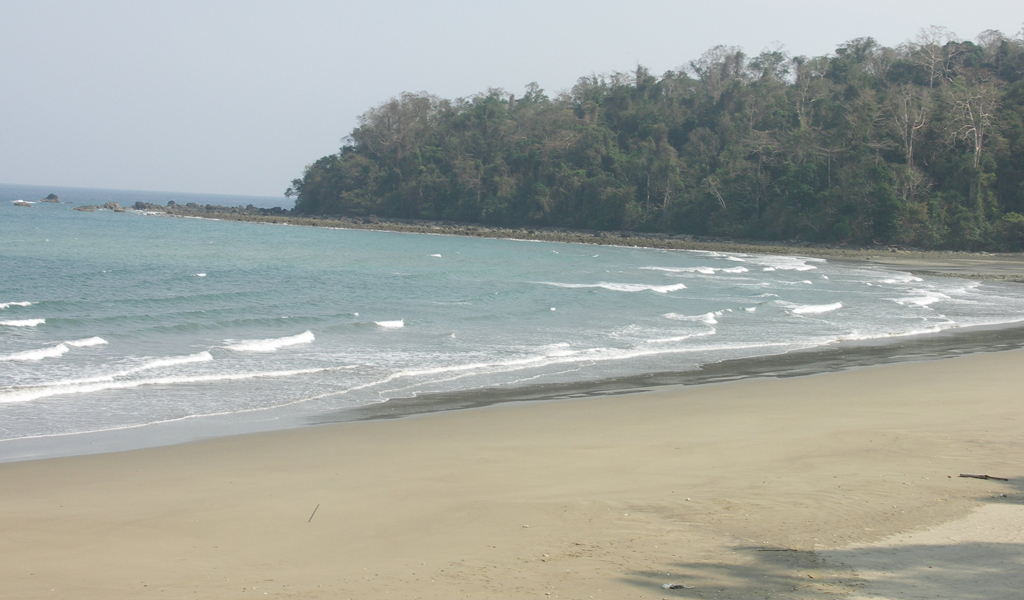 The Ramnagar Beach of Diglipur is a shimmering and beautiful beach that is very peaceful and secluded and famous for being the turtle nesting grounds. It is located at a distance of 70 kilometres from Mayabunder and around 35 kilometres from Diglipur. This beach is perfectly suitable for swimming is its clear blue waters. There is a nature trail for trekkers that forms an additional attraction for nature lovers and trekkers.Naturalists feel allured towards this beach on account of its turtle nesting phenomenon. Some eco-friendly beach facilities such as eco-huts, benches and seating arrangements have been constructed for the benefit of the travellers who arrive at this beach to enjoy nature. The turtle nesting process can be viewed and enjoyed anytime between the months of November and April. Aid is provided to ensure turtle egg hatching and once they are hatched the tiny hatchlings are set free into the ocean in the hope for them to return to breed in its sands once more. One needs to carry lunch packs, drinking water and something to spread on the sands for lazing on this beach. The open and eco-friendly tree houses can be used for watching out to the vast open seas.
33. Pathi Level Beach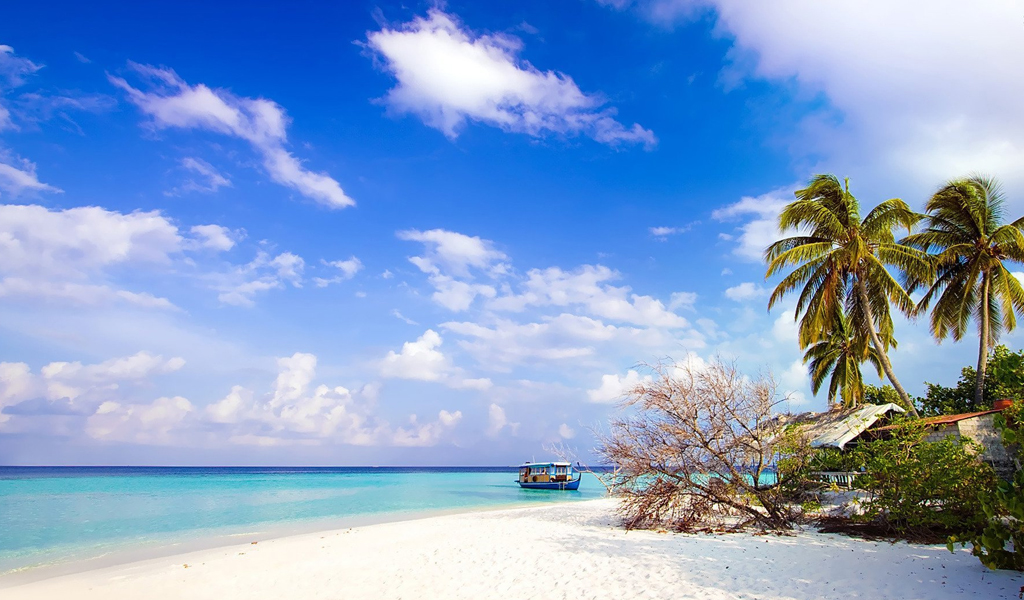 Pathi Level Beach is located in Diglipur. It is not one of the frequented beaches of Andaman and Nicobar Island even though it is at par in beauty with any of the popular beaches of Andaman such as the beaches of Havelock or Neil Island. Pathi Level Beach is a bit secluded and away from the hustle and bustle of the main city. In order to reach Pathi Level Beach, one has to walk from Ramnagar Beach or ride a fibre boat from Kishorinagar.
34. Alfred Caves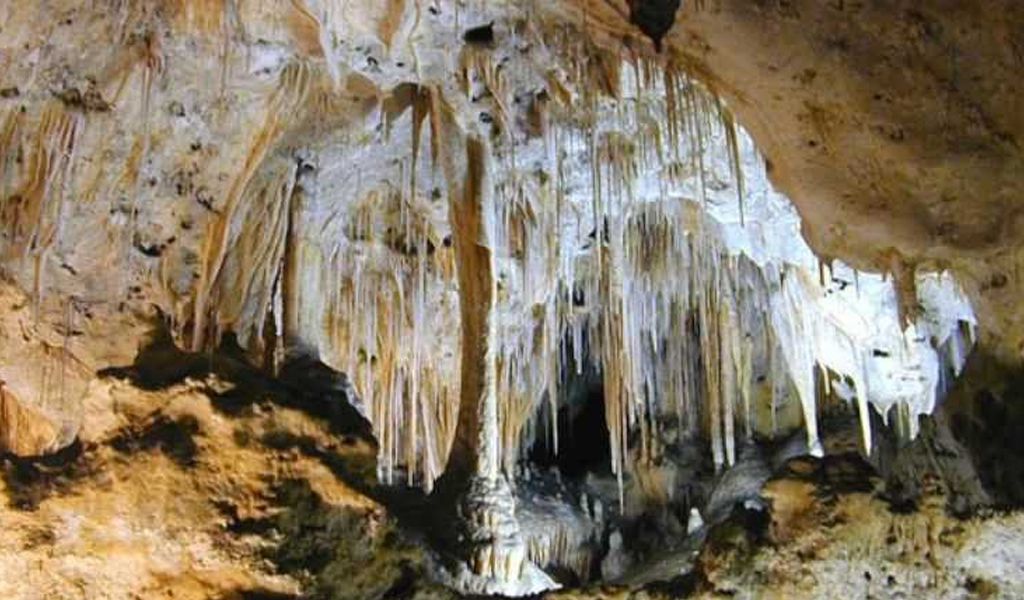 The Alfred Cave of Diglipur is found close to Ramnagar Beach of Diglipur. To reach Alfred caves the closest landmark is to reach Ramnagar. From Ramnagar, one needs to hire a local person or guide or forest guard to find way across the greenery to reach the caves. The cave exploration trip is always a day trip. So one needs to start early and reach back base by evening after visiting the caves. A dense forest nestles this cluster of enigmatic 41 caves. The caves are dark and wet and houses innumerable swiftlets and fruit eating bats. Best months for cave visit are from October till March. The caves have a very narrow entrance and opens up into a chain of small caves inside.
35. Little Andaman
Little Andaman island offers a joyous mix of beauty-laden vacation and adventure-laden thrill. It is a perfect blend of white sandy captivating beaches mesmeric waterfalls, fascinating boating trips through the mysterious creeks, exciting elephant safari, training of young elephants, elephant lumbering, sea surfing, trekking through evergreen rain forests and a lot more. Little Andaman Island is located south of the South Andaman Island. The distance from Port Blair To Little Andaman is around 120 kilometres. Hut Bay is the entry and exit point of approaching Little Andaman. Hut Bay is also the headquarters of Little Andaman Island and the island has good road facilities for tourists.
Little Andaman is gaining in popularity for sea surfing. The various resorts of the island rent out surfboards and even arrange for surf camps near Butler Bay Beach of Little Andamans. It has evolved into a primary surfing destination in India and has found a mention in "The Stormrider Surf Guide, Indonesia and the Indian Ocean". A private organization runs a Surfing School at Little Andaman.
36. Butler Bay Beach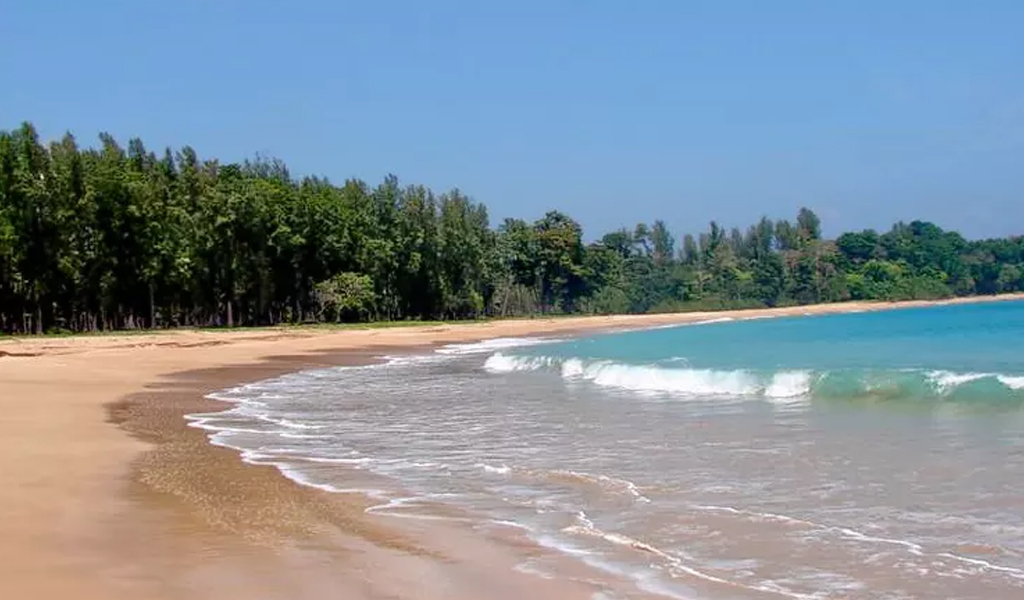 Butler Bay beach is an invigorating beach of pristine beauty. It is located in Little Andamans. The beach boasts of brilliant sunshine, calm surroundings, peaceful gentle seas and these form definite factors of tourists attractions.
The rich culture of wildlife, marine life and the typical island flora and fauna acts as the predominant items of economic and tourist development of the island. The steady and calm water of the sea around this beach makes it ideal for the hordes of surfers rushing in from all across the world to experience the best-in-class surfing expedition.
Plenty of options are available for tourists walking into this beach every day. The beach is famous for sea surfing, snorkelling and swimming along with most exotic experiences such as jungle trekking, swimming, elephant rides, nature walk, hiking, kayaking and boating. The wide variety of adventure-cum-fun activities entice many a tourists to this beach regularly. The exquisitely beautiful waterfall White Surf is also to be found close to Butler Bay Beach. For tourists visiting Butler Bay Beach visit to the waterfall is a must; and a refreshing dip followed by a blissful swim shall be an exhilarating experience. Humble tourist huts have also been arranged is a methodical fashion on the beach front for people who would like to spend the night on the beach. The huts command a free and fair view of the open seas. The glittering emerald waters of the Butler Bay is renowned internationally. The beach is lined by tropical forests and a never-ending line of coconut palms. The shape of the beach facilitates a complete view of the bay from any point on it.
37. Netaji Nagar Beach
Netaji Nagar Beach is around 11 kilometres from the Hut Bay Jetty. It is located in Little Andamans. It is a white sandy beach suitable for sun bathing and relaxing. It lacks any kind of tourist infrastructure and the isolation lends this beach its typical charm. It is a beach where you can enjoy complete privacy. The local people here are extremely tourists friendly. One or two very basic resorts can be found in the vicinity if one plans to extend Netaji Nagar Beach exploration.
38. Waterfalls at Little Andaman: White Surf and Whisper Wave
There are two waterfalls in the Little Andaman. The White Surf waterfall is 6.5 kilometres from Hut Bay Jetty. It is located in the deep interiors of the tropical evergreen rainforest . The location provides a wonderful spot for picnic with family and friends. The waterfall is huge and sends across a spray of white surf and hence the name White Surf. One looks enthralled at the captivating fall as the white foamy water tumbles down a small hill. The lush greenery of the surroundings makes this waterfall area an indelible attraction for nature lovers. A difficult trek to the top of the waterfall brings a small pool to your eyes that is up on the hill. The hike will also take you across a few small creeks. The second waterfall, Whisper Wave is located 25 kilometres from the Hut Bay Jetty. This waterfall is similarly surrounded by a lush green virgin forest of tropical rainforest. You can reach this waterfall after a 4-km trekking through the dense forest.
39. Little Andaman, Oil Palm Plantation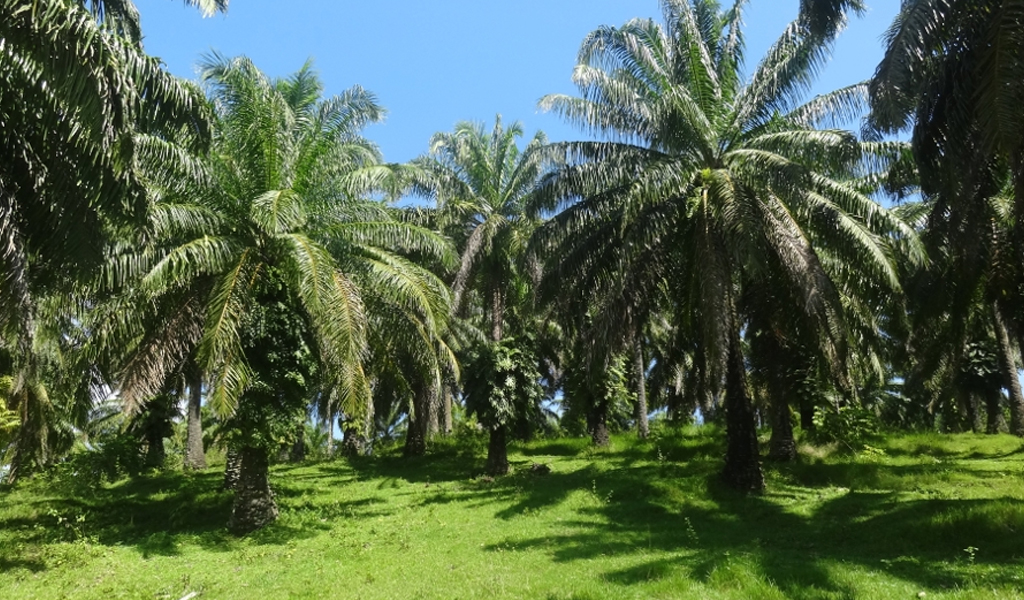 Little Andamans is famous for its Red Oil Palm Plantation run by ANIFPDCL The plantations can be reached at a distance of 11 kilometres from the jetty. The plantation is huge and is spread across a huge expanse of 1,593 hectares. ANIFPDCL runs a factory for the efficient extraction of palm oil. Tourists are welcome to visit the plantation and the factory to observe the interesting process of watching the different stages of oil palm fruit production and oil extraction. This plantation along with the factory can be visited while traveling from the White Surf Waterfall to Butler Bay Beach, both of which are must attractions for tourists visiting Little Andamans.
40. Stewart Island Beach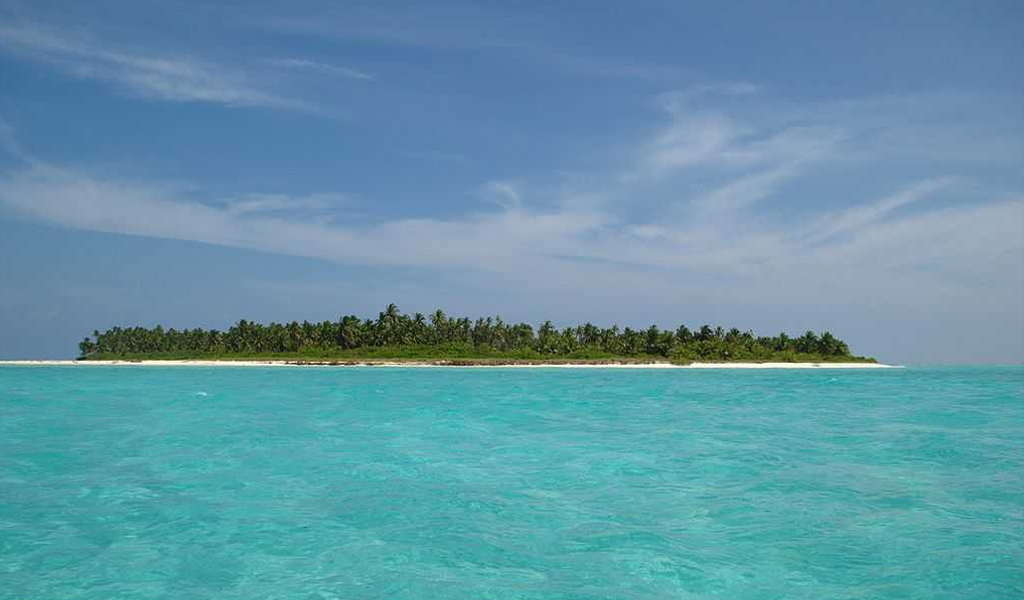 Stewart Island Beach provides the ultimate experience of seclusion and peaceful viewing of sea, sand and surf. It makes for a pretty vacation point for those who wish to escape the rush of modern civilization. This beach is situated not very far from Mayabunder. The beach is quite isolated and absolutely uninhabited even though the rest of the island has population. The greenery and the view of a calm bright sea can be enjoyed without any interruption for hours together here on the Stewart Island Beach. It makes for a perfect, carefree and secluded sea viewing. This beach can be reached from the Mayabunder Jetty. Start for this beach early in the morning and since there is no accommodation on the beach, you need to be back before sunset. Scenic beauty is overwhelming. The beach is located approximately 150 kilometres from Port Blair.
41. Rajiv Gandhi Water Sports Complex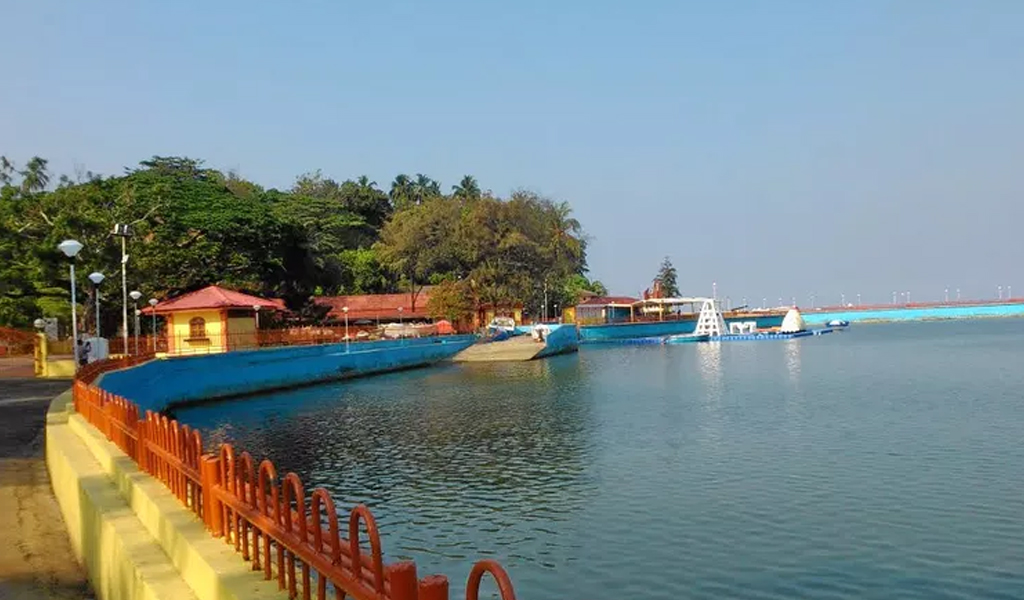 Rajiv Gandhi Water Sports Complex is also commonly called the Andaman Water Sports Complex. It is a primary attraction in Port Blair and is definitely included in the daytrip of Port Blair. Rajiv Gandhi Water Sports Complex is located in the centre of the city of Port Blair and hence it is easily and quickly accessible to tourists. This complex a dedicated destination for water sports and activities. The complex also carries historical significance. It is a memorial for the Battle of Aberdeen that was fought between the aborigines of Andaman and the British in 1859. The complex provides adventure sports and activities such as parasailing, paddle boating, banana boat rides, rowing boats etc. The fun water activities are usually for both young and old. Some thrilling adventure sports would be water skiing, windsurfing, water scooter and jet skiing. The adventure sports are carried out under the able guidance of experienced trainers and are aided by proper equipment to ensure thorough safety and security of the guests. Since the water body is huge, it can easily accommodate multiple parallel activities for a large number of tourists. The water sports complex is open all seven days of the week for the whole day. So people get more time to enjoy the exciting features of the water sports complex. It is around 7 or 8 kilometres from the Port Blair city centre and takes hardly 20 to 30 minutes to reach by road.
42. Chatham Saw Mill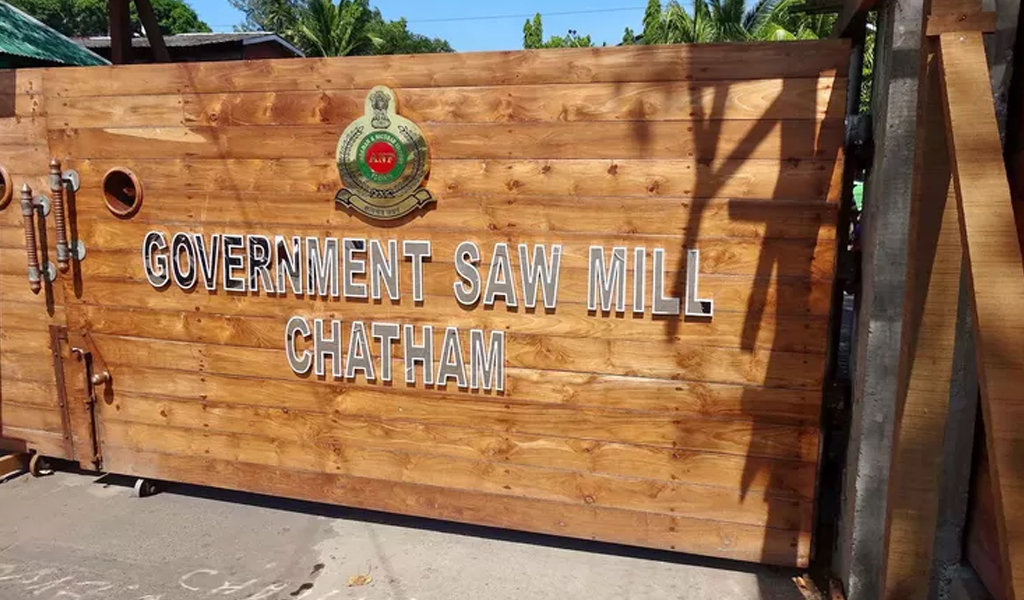 The Chatham Saw Mill in Port Blair is a large wood processing unit that was established by the British rule in the year 1883. The mill is located in the Chatham Island and is accessible by a wooden bridge. The mill is still running and plays a crucial role in the country's economy and development. The state government controls the management and functioning of the mill. It was initially established for supplying wood for timber and wood based constructions. It is one of the largest saw mills in Asia and enjoys international recognition for the high-quality timber products. The mill employs around 750 employees and processes around twenty thousand logs annually.
A very interesting museum is located in the compound of the Chatham Saw Mill complex. This museum exhibits the beautiful photographs and the process of work of Department of Environment and Forest. It also showcases various different handicrafts comprising wood carvings, wood polishing and exquisite paintings. The museum takes the tourists through a journey unfolding the history, culture and development of the island through all these years.
The Pillar of the Planet was built in the year of 2009 to commemorate the 125 years of Forestry on the islands in the Chatham Mill premises. It demonstrates the various different processes like fetching woods to the mill, sorting, cutting and storing of the wood procured. Also observe the bomb crater that was left behind by the Japanese Ordnance after World War II. The mill is closed on Mondays and Public Holidays. Rest of the days it remains open for tourists from 8:30 am to 4:30 pm.
43. Anthropological Museum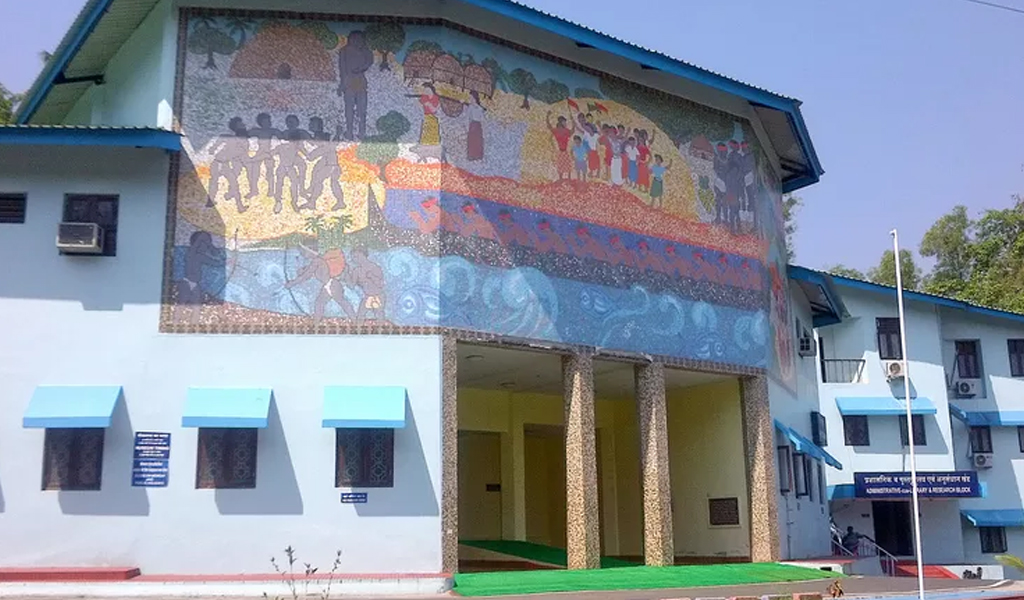 Anthropological Museum is of extreme interest for curious travellers who are keen on knowing about the Andaman Island's tribes and their way of living. It is majestically depicted in the various sections of the museum. Its summarizes in a very interesting manner a lot of insights regarding the four very enigmatic tribal communities living in the archipelago since centuries. The Jarawas, Sentinelese, Great Andamanese and Onges are of extreme interest to the civilized world as they have been able to retain their primitive ways of living down through the ages without being affected by the modernity of the rest of the world. This museum capably showcases the essence of culture and traditions of the major tribes living in Andaman.
Jarawa tribal miniatures or even life-life statues depicting various ways of tribal life, the Gothic style followed by the Sentenelese tribes along with various items of utility that these tribes use, for example, boats of different sizes that is used by the native coastal are on proud display. Items handcrafted out of coconut or palm leaves demonstrate the aesthetic culture that prevailed among forest living tribal community. The museum is located at the Pheonix Bay and is a drive of around 7 to 8 kilometres.
44. Katchal Island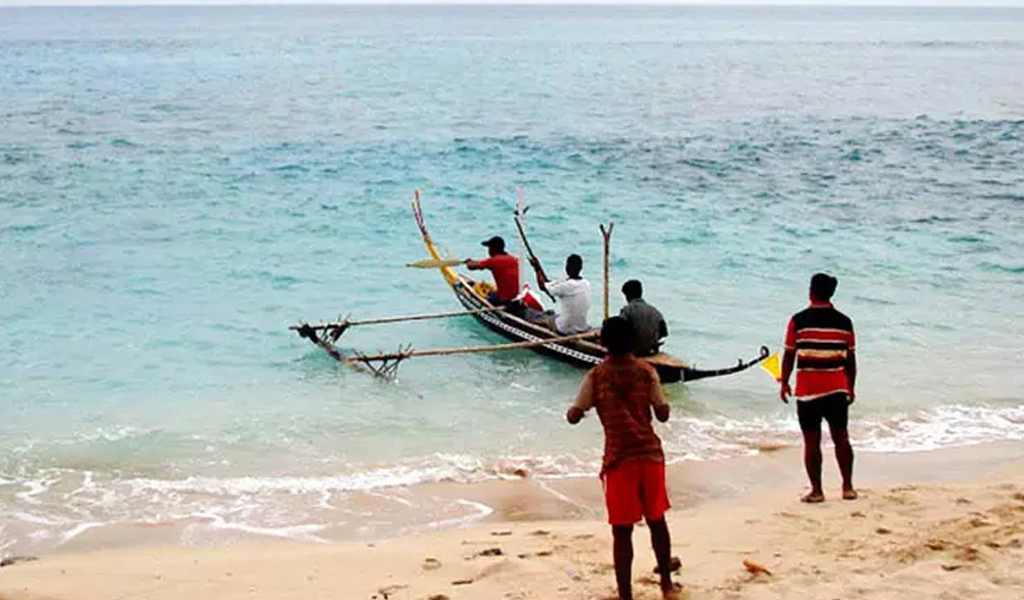 A mere handful of 37 islands out of a total of 572 islands of the Andaman and Nicobar islands are inhabited. These uninhabited islands have always been veiled in a deep mystery for the outside world. There are so many curious travellers visiting the Andaman and Nicobar Islands every year with a desire to have a peep at these interiors of islands and their primitive beauty untouched and unspoilt. Katchal Island is one of the lesser trodden parts of the archipelago. Some of the islands of Andaman and Nicobar are under government protection as Aboriginal Tribal Reserve Area to save the aborigines from the decadence of civilization and to reserve their pure and natural form of lifestyle.
Night Stay at Katchal Island is not permitted. In the 2004 Tsunami, Katchal Island got devastated but is now stable. It is located 305 kilometres south of Port Blair. The island has abundance of calcareous sandstone and marble slates that lend a bright silver shine to the hills of Katchal. The deep dark and dense tropical forests of Katchal harbours a stupendous collection of pythons, black monkeys, pigs, long-tailed parakeet, Andaman green pigeons and other rare animal and bird species. The islands also has its characteristic expansive that offer breath-taking sunrise and sunset views. Trekking, hiking or relaxing on the beach would be the primary activities of interest in Katchal Island.
45. Karmatang Beach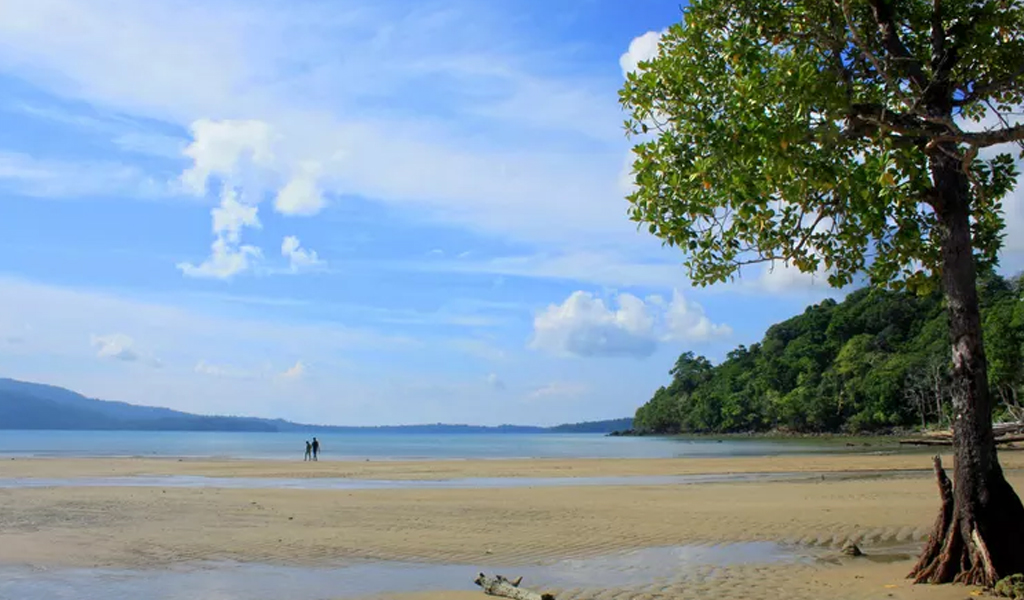 Karmatang Beach is located approximately 12 kilometres away from Mayabunder and it is a prominent beach attraction in Andaman. The beach is provided with tourist-friendly miniature huts and shelters to take rest or gaze at the open seas on the beach. These beach huts are suitable for arranging parties, reading books, or simply lying under the sun. Karmatang Beach is popular among tourists because it is blessed with exquisite natural beauty and veritable greenery. There are hammocks placed on the beach at strategic locations for guests to chill and snooze. Karmatang Beach is also secluded and supports turtle nesting on an extensive scale. There are turtle nesting farms that promote conservation of endangered species. The long coastline and efforts at tourism by the local people is gradually increasing the popularity of the beach.
Karmatang Beach is not only popular among outside tourists, it is also a hit among natives who arrive at the beach to spend a quiet beach time with families and friends. The beach with powdery soft sands is ideal for beach walk and relaxation. The waters might be a bit rough and not very suitable for swimming by the beginners or first timers. This beach is located at a distance of 240 km from Port Blair, the landing point. The road from port Blair leading to Mayabunder also links Karmatang Beach. Mayabunder receives regular bus service and boat service from Port Blair. From Mayabunder, it takes hardly 20 to 30 minutes to reach Karmatang Beach. Another direct route from Port Blair is via the Grand Andaman Trunk Road.
46. Interview Island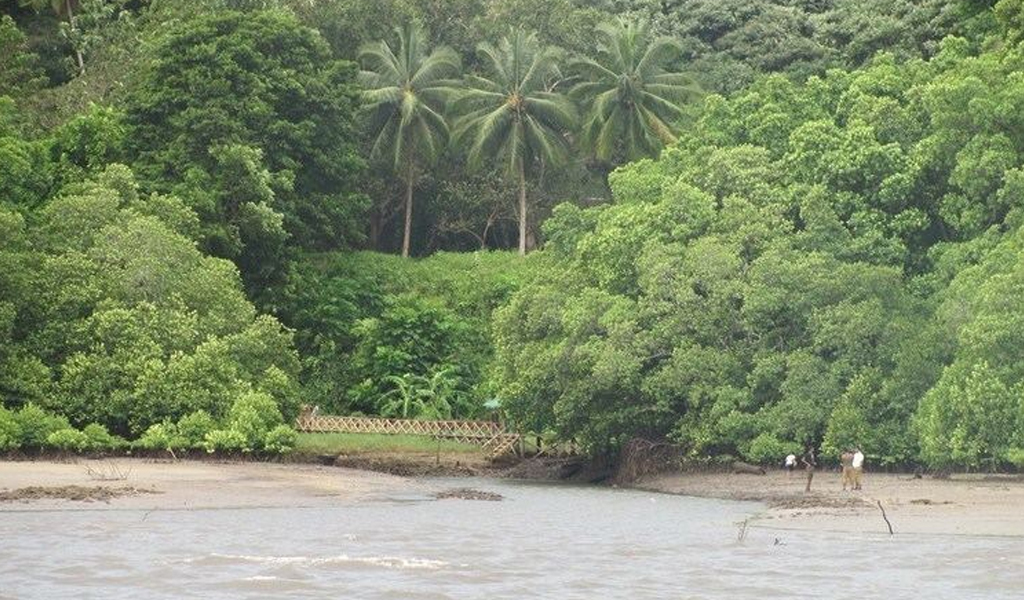 Interview Island is a like a gush of fresh air, blue seas and deep mystery and is definitely worth a visit if one is adventurous at heart. Interview Island is located at a distance of about 3 hours from Mayabundar and can be reached via fibre boats from Mayabunder Jetty.
Interview Island is pristine. It is uninhabited, is flanked by azure green sea, has tall dark hardwood trees and had a herd of elephants living in it who used to work for British Timber company. The elephants now live in peace in the Interview Island and adds to the delight of the visitors.
Interview Island has sudden and refreshing sources of fresh water scattered here and there. The Western coast of the Island has a cave below a hill that has a gushing fresh water source. You can advise your boatman to anchor at the southern tip of the island and you can easily reach the perennial freshwater pool of the low cave. It is said that the well, which is the source of fresh water and is the nesting place for white-bellied swifts, is bottomless, unfathomable. By taking directions form the forest warden guarding the island from poachers, you can even watch the elephants scouting the jungles. The elephants had been inhabiting since they were abandoned here by a Kolkata-based logging company after the failure of the timber operation way back in the 1950s. Saltwater crocodiles are to be spotted along the eastern coast of the island, if that is interesting enough to draw you to this enigmatic island.
The island is open for day trips. In case you plan to visit this island, reach the island as early as possible in the morning and be back by sunset. Enjoy the deep solace and serenity emanating from the uninhabited island.
47. Avis Island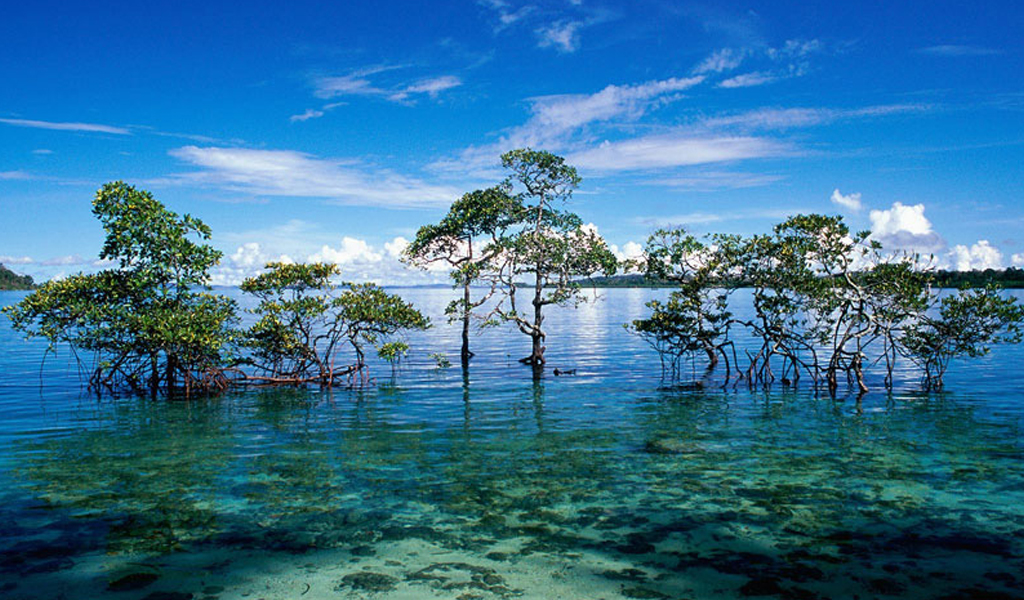 Avis Island has a small powdery beach to entice the tourists in search of peace and a place to spend away from the madding crowd. Avis Island can be reached from Mayabunder via small ferry boats also called Dhungi. Catching the beauty of the small island through the photographic lenses would be a good idea. This island makes for a good picnic spot. You need to carry drinking water and packed food and all other provisions to make your picnic a hit.
The ocean waters surrounding the island is absolutely calm and crystal clear. So much so that if one walks into the water at least till knee deep one can see the fresh and colourful corals and the variegated fish that swim in and around. It is delight to watch the thriving marine underwater life so close at hand. The beach is appropriate for basking under the sun or take a cool dip in the warm waters but might not be a good choice for swimming as it has small pebbles underwater. The coconut tree lined shore offers shade from the sun. Avis Island is unique and not frequented since one has to obtain permission from the authority to visit this island.
48. Vijaynagar Beach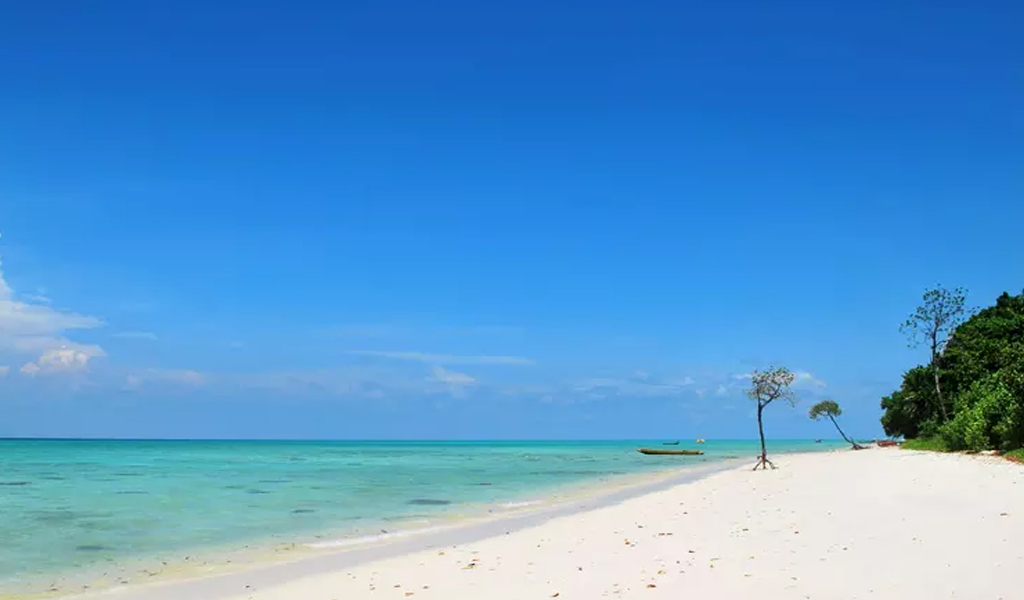 Vijaynagar Beach is known as Beach No.5 and is located in Havelock Island. This is one beach which is located away from the very famous and crowded other beaches of Havelock. Ultimate calmness prevails in this beach which is lapped by the shimmering sapphire blue waters of the Andaman Sea. The pearly white sandy beach is a perfect location for romance, be it honeymoon couples or families.
The beauty of the beach has made it one of the primary attractions of Havelock even though it is not frequented by many who would choose the other more happening beaches for fun. The beach provides ample scope for lazing aimlessly, sunbathing, dipping into the warm blue seas or rest under the shady trees of mahua and palm. a splendid place to sit back and relax as much as time one wants to. This is a super cool destination and forms an enchantment for photographers.
The sunrise view across the beach is class apart. The fresh sea breeze, the crimson glow of the rising sun spreading wave after wave and the crowd of birds add glamour to the setting. This beach is ideal for swimming and sunbathing and is located just about 9 kilometres away from the Havelock Jetty.
49. Limestone Caves of Baratang Island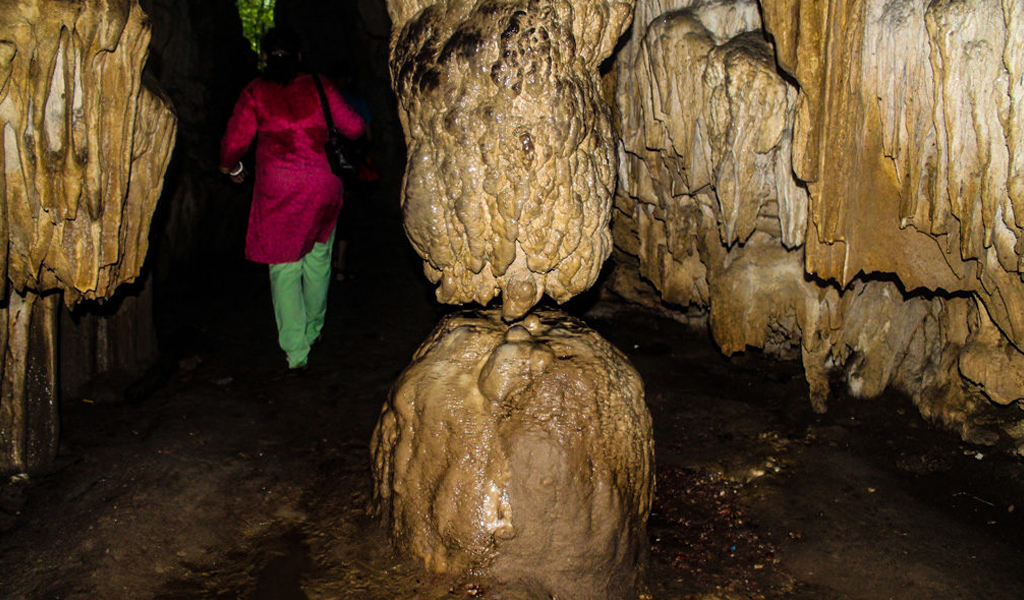 Baratang Island is the home to another extreme wonder of the world. It is of immense interest to naturalists and geologists alike for the ancient Limestone Caves. The approach to the limestone caves crosses dense forests and one has to cross a canopy lush green thick mangroves and narrow and eerie creeks to get to the ultimate destination. The tour calls for a day full of adventure. The limestone caves are ancient and dark. They contain stalactites and stalagmites ledges hanging from above the ceiling and piling up from below. The formations are real visual treat to the visitors who reach the limestone caves to get overwhelmed. The salt water crocodiles wait to show up and thrill the boat riders.
The Baratang Island is almost 100 kilometres from Port Blair. Even after reaching Baratang Island there is yet the adventurous boat ride that continues for half an hour and after that a short trek takes you to the caves.
50. Mud Volcanoes of Diglipur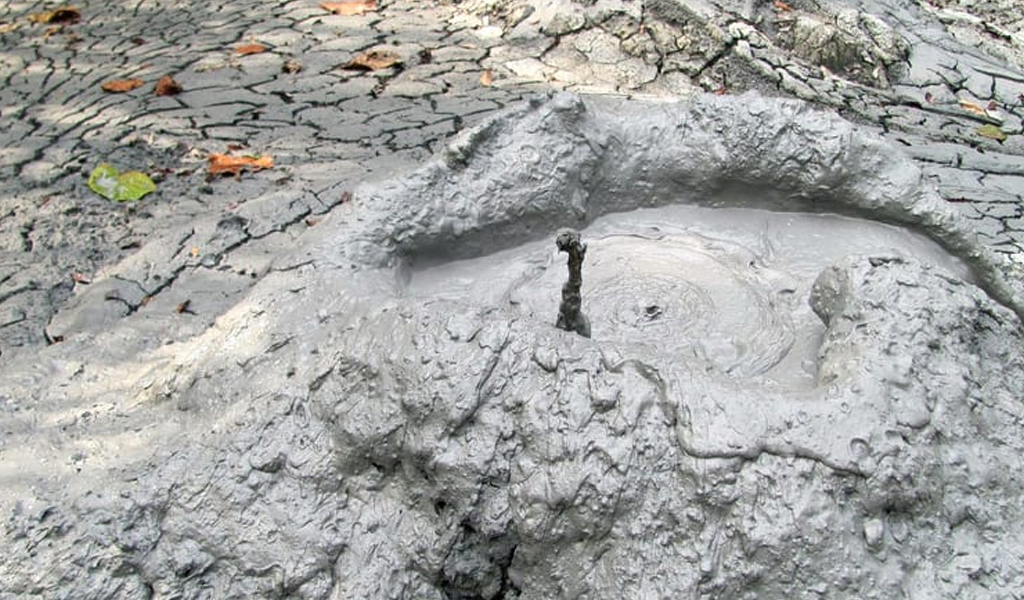 Mud volcanoes make for another natural wonder that pulls huge crowd to this remote island. These mud volcanoes emit a large amount of de-pressurized pore water and some natural gases such as methane. There are as many as 25 such mud volcanoes in the scattered throughout the island. The greyish mud oozing or bubbling out of deep inside the earth is a real phenomenon to be watched in awe. The fresh air all around, the scent of tropical flora, the sighting of exotic fauna, the sea and dense mangrove, the quiet life of the inhabitants, the adventure of crossing the Jarawa tribal protected regions together create an unforgettable magic.
51. The Parrot Island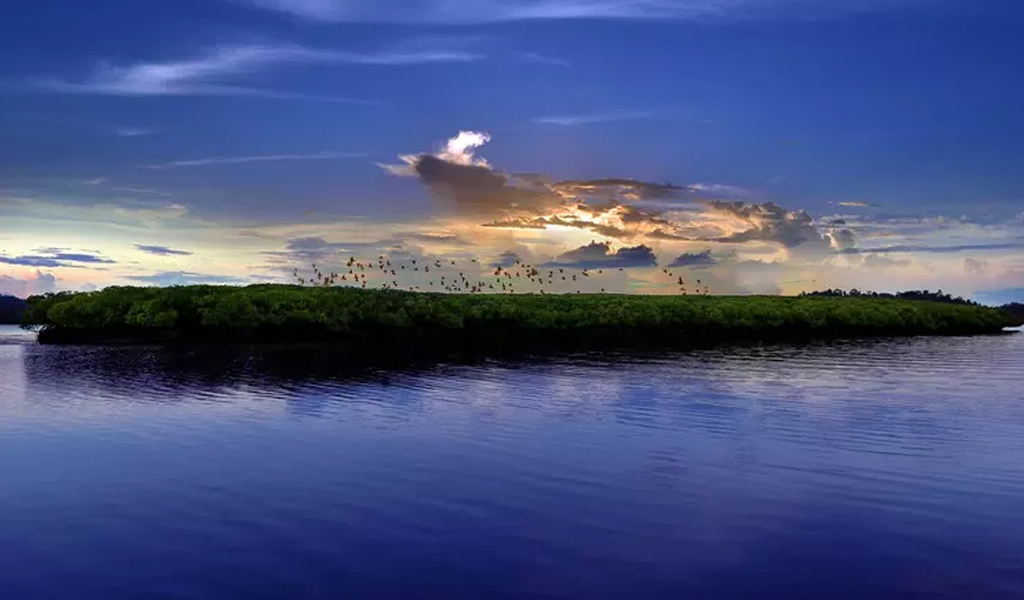 The enchanting Parrot Island is the wonderful abode of thousands of parrot. They leave the island at around sunrise and again come back around sunset creating a flurry of energetic activities and the island seem to quiver green with the parrots returning to their abodes. It is haven for bird watchers, nature lovers, curious tourists and enthusiastic naturalists. This island is considered as the most beautiful island of Baratang area and is uninhabited. Its beauty emanates from its feathered inhabitants, the gorgeous parakeets. A boat ride around the island gives a great view of the island as well as the sunset spreads its warm golden glow and creates for a surreal beauty that is heavenly. The Parrot Island is located 30 kilometres from the Baratang Jetty.
52. Barren Island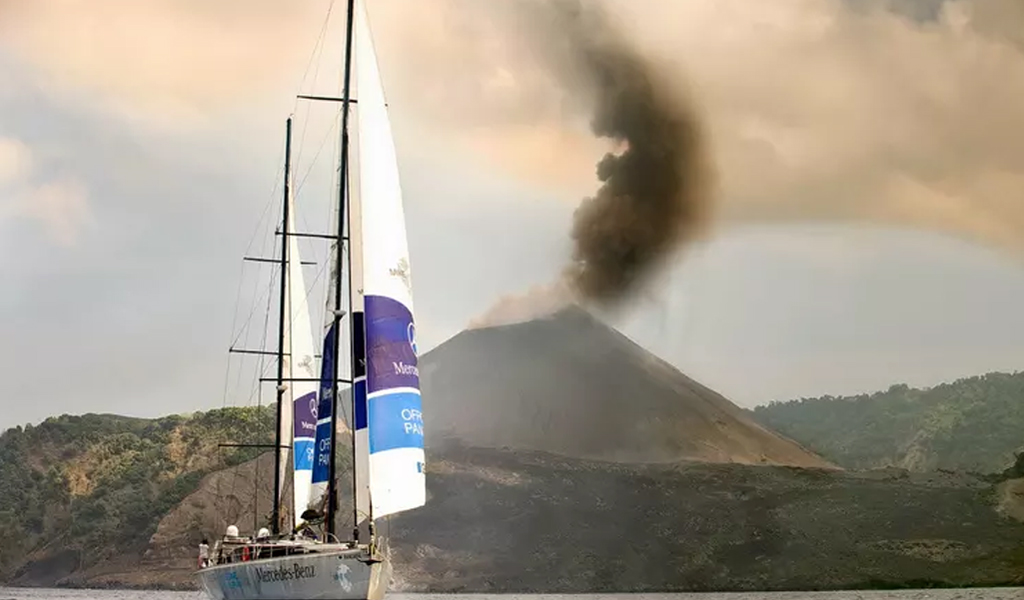 Barren island of Andaman carries a geographical significance across the world. This island is of special interest as it possesses in its heart the only active Volcano in India which is also the only active volcano along the entire ring from Sumatra to Myanmar. Barren Island is located around 138 kilometres from Port Blair. The volcano has again started erupting in 2018 and is right now in active state. It receives a huge number of tourists who cross the seas just to have a thrilling look at the natural fire belly. As the name implies, Barren Island is mostly bereft of vegetation. Only a few goats and some birds, bats and flying foxes are known to survive miraculously in these extreme climatic conditions of the island. Scientists have studied the ongoing eruption and have concluded that the current spewing of ash and lava is actually benign. That actually makes this island visit safe from a measured distance.
Frequently Asked Questions
Which is the best island to visit in Andaman?
Among the all 572 islands of Andaman and Nicobar archipelago, Havelock Island and Neil Island are the most picturesque and exquisitely beautiful islands and also among the best places to visit in Andaman which one should not miss. These islands are inhabited and has resorts and hotels of every budget to cater to tourists of all preferences and budget. Port Blair is also the primary place to visit since it is where your aircraft will land as it the capital of Andaman and Nicobar and has the only airport (Veer Savarkar Airport) of the archipelago.
Do we need a passport to visit Andaman?
No, if you are an Indian citizen, you would not need a passport to visit Andaman and Nicobar Islands.
What is Andaman and Nicobar famous for?
Andaman is very famous for its exquisite pearl jewellery if you are thinking of shopping in Andamans. Andaman offers a wide range of sea shell products and exquisite hand crafted souvenirs.
Where do I go for shopping in Andaman?
The most famous market of Andaman is the Aberdeen Bazaar in Port Blair. Here, you can shop for a wide range of souvenirs, seashell products, pearl jewellery and also fruits and vegetables. Everything that you would want to buy right from daily essentials to Andaman-specific unique items that this island has to offer is to be found in Aberdeen Bazaar. It is the most famous market of the islands and remains packed with locals and tourists alike.
What are the best places to visit in Andaman?
Neil Island and Havelock Island are the most popular and beautiful as well as inhabited islands of Andaman. Port Blair has the famous Corbyn's Cove Beach and historical Cellular Jail. Neil Island is very popular and has various alluring attractions such as Sitapur Beach, Kala Pathar Beach, Bharatpur Beach, Laxmanpur Beach, Ramnagar Beach for diving and snorkelling. Havelock Island has Radjhanagar Beach, Elephant Beach, Vijaynagar Beach for snorkelling, scuba diving etc. The other top most attractions of Andaman and Nicobar are Barren Island, Long Island, Baratang, Chidiya Tapu, Barren Island, Diglipur, Limestone Caves, Mud Volcanoes, North Bay Island, Cinque Island, Ross and Smith Island, Mangrove Creek, Jolly Buoy Island, Wandoor Beach, Viper Island, Parrot Island, Mayabunder, Lamiya Beach, Karmatang and Merk Bay Beaches, Guitar Island Beach, Katchal Island Beach, Chatham Saw Mill, Samudrika, Anthropological Museum, Rajiv Gandhi Water sports Complex, Mount Harriet, Rutland Island and many more attractions.
Which are the most famous islands of Andaman to visit?
Andaman Islands are blessed with the best beauties of nature – be it pristine beaches or virgin forests, turquoise seas or mangrove creeks. The most famous islands among the 572 Islands in Andaman that are vivid examples of God's imagination can be identified as Havelock Island, Neil Island, Jolly Buoy Island, Ross Island, North Bay Island, Ross and Smith Island, Cinque Island, Rutland Island, Guitar Island, Katchal Island, Parrot Island and many more.
What should I not miss in Andaman?
Some lovely ways to enjoy the beauty of Andaman are Beach Bumming on lovely beaches such as Radhanagar Beach, Bharatpur Beach, Corbyn's Cove and Long Island, soaking up ample sunshine and lazing around. Also Andaman is known for varied thrilling and exciting Water Activities such as Scuba Diving, Swimming, Snorkelling, Glass Bottom Boat rides, Sea Walking, Sport Fishing or Angling, Dolphin Watch, Banana Boat Rides, Undersea Walking, Jet Skiing, Speed Boating and Parasailing. Also, go for delightful island hopping, visiting the very famous Cellular Jail, Samudrika Marine Museum, Anthropological Museum, Kalapani Museum and Science Centre.
What can I buy from Andaman?
Andaman is known for beautiful Pearls. If you are looking for souvenirs and gifts for your family members or close friends, you can buy exquisite handcrafted items, Spices, Fishbone Articles, Timber Crafts, Shells, Jute Items, Coconut Handicrafts and Nicobari Mats.
Is Andaman safe to visit?
Andaman and Nicobar Islands is gradually becoming a favourite destination among global tourists. Number of visitors are increasing year on year and along with that security challenges are also increasing. The safety factors are being ramped up by the administration to manage the safety and security of the guests visiting the islands. Most of the islands are uninhabited and there are restrictions in travelling to several islands as they are under the protection of Indian Government and trespassing is strictly forbidden. The roads are safe. Some regions are inhabited by rare and ferocious primitive tribes and rules and regulations are to be followed while travelling through Andamans.
How many days are sufficient for visiting Andaman?
You need at least 5 days in Andamans to have the basic feel of the islands' primitive and secluded beauty. Stretching it to a week-long vacation will give you an opportunity to at least cover the closest and most famous tourists spots of Andaman such as sightseeing in Port Blair, visiting Ross Island, North Bay Island, Neil Island and Havelock Island. Honeymoon packages range from a week to more.